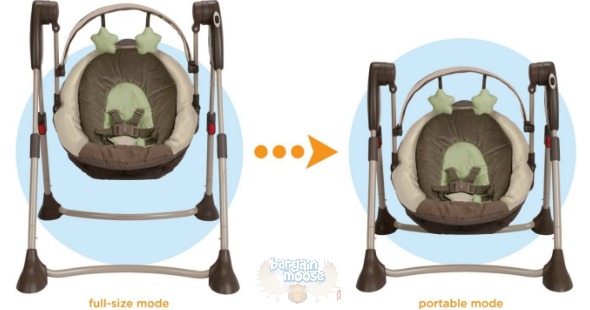 You may know someone expecting a baby, or perhaps even be expecting a baby yourself. Either way, I found the Graco Swing to be a lifesaver during the first few months of motherhood. Right now Walmart Canada has the Graco Swing By Me - Little Hoot on clearance sale from $119.97 down to just $68. You'll even get free shipping.
While motherhood may be the best years of your life, you will appreciate your breaks - trust me. When I needed to wash dishes or even just read a book for a few moments, I really appreciated having my trusty baby swing. This Graco Swing By Me -Little Hoot will be priceless when you need it. This swing is on clearance sale for just $68. Walmart Canada offers free shipping on all orders over $50, so you won't have to worry about any extra costs in that area. Not to mention the little owls are so adorable.
To make sure that this is the best price you can get on this Graco Swing By Me,I did a price comparison. Have a look at what other Canadian retailers are selling this item for:
This Little Hoot Graco Swing By Me is considered a 2-in-1 swing. That means it is a portable swing that can also convert into a full size swing for your little bundle of joy. This feature makes super convenient if you travel a lot with your little one or like to move the swing from room to room within your household. It is suitable for infants up to 25 pounds, so if you're lucky you could use it until your kiddo is around 6 months. My son grew too big very quickly unfortunately, but he is in the 98th percentile.
If baby wants to sit up or lay back, no worries. This swing has a 3 position recline. It also has a few different swing speeds so you can set it to your little one's preferences. I also found that my Graco Swing By Me was able to fold up quite compact. I was able to fit it in the trunk of my little car for easy travel, and it was also small and simple to store within the home when not in use. When my son outgrew mine, I put it up on Kijiji for $50 and it sold rather quickly,
(Expiry: Unknown)