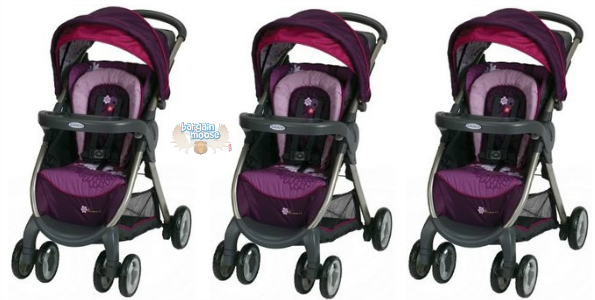 Roll down the street in style with the Graco Fastaction Stroller. This is an adorable stroller with a purple design, but has the quality you expect from the name Graco. This stroller originally retailed for $229, and is on sale for $133.33. Use our coupon codeMOOSE50OFF125JULY to take off another $50 the total, bringing the price down to $83.33. Free shipping with no minimum finishes off this deal.
When you are shopping for a stroller, it can be overwhelming. There are a million choices and you never know which one is going to work well, fit in your car and go the long haul. The stroller I found today is not an elite stroller, but the price is amazing. If you are on a slim budget or need an extra stroller, such as for Grandma's house, this is a solid deal. Check out the adorable black and purple design on this stroller. They call the design Minnie Mouse, but it seems unrelated to the famous mouse with the polka dot bow.
The seat back is fully adjustable and there is an extra-large basket underneath for stowing extra baby supplies. The tray in front of the baby has two separate cup holders perfect for sippy cups and snacks that will pivot to let the child in and out. This stroller will also connect with any of the Graco Classic Connect infant car seats, such as the famous Snugride.
The best price I could find on this stroller was at Canada's Baby store where this stroller is also selling for $133.33, but there is no amazing coupon code to knock the price down further. I found this exact stroller selling at Newegg.ca for $199. Amazon.ca has this stroller selling from a secondary seller for $229. I also looked over at Toys R Us Canadajust to make sure I knew how much Graco strollers are retailing for right now. The least expensive Graco brand stroller I could find is $199.99, and it has a generic design.
I think this stroller model is being discontinued. Reviews were tough to find online, though on Amazon.ca there were two positive reviews. Both people mentioned that this was a lightweight stroller and it is well constructed. Graco is known for making solid products that include the essentials. If you are looking for that stroller that glides with a single touch from your pinkie finger and folds up small enough to fit inside your wallet, then this stroller may not be for you. If you need a solid stroller at a low price that is cute and includes the basics, you should pick up this stroller.
(Expiry: unknown)