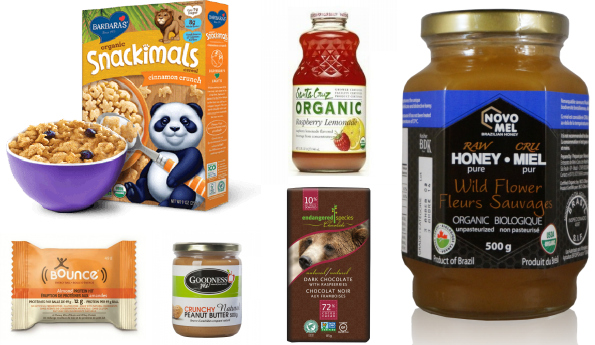 I am STOKED over this Goodness Me deal. Right now they are offering up to 60% off various all natural, organic, Non-GMO, and vegan foods, cosmetics, and more. On top of this, they currently have a free shipping promo with no minimum order on right now. Usually they require a $25 minimum, so this deal is awesome. I am going shopping, yo!
Honestly, this is my favourite place on the entire internet to shop for natural and organic food. I am buying a jar of Wildflower Honey, 500 g by Novo Mel. Originally $11.29, this honey is now on sale for $6.79. Wildflower honey is the best but it does have a stronger taste. For a more mild honey, pick up the Eucalyptus Blossom Honey, 500 g instead - it is on sale for the same price.
All the Endangered Species chocolate bars are on sale as well. I only buy natural chocolate, and this chocolate is for a good cause. I just added a bar of Raspberry Dark Chocolate, 85g to my cart. Originally $3.99, the chocolate is now on sale for $3.49.
While a little out of season, I have been dying for some good lemonade. Seriously, what is better than 1 litre of your favourite organic, non-GMO lemonade delivered to your door for a couple dollars? Originally $4.99, they are now on sale for only $2 each. There are six flavours to choose from:
I just added the Raspberry and the Limeade to my cart.
If you are looking for a good healthy snack, then look no farther than Bounce Bars. They are natural snack bars packed with awesome ingredients. There are so many flavours to choose from including Peanut Protein Blast, 49gand Almond Protein Hit, 42g. Originally $3.49 each, they are now on sale for $1.97 apiece.
There are so many other great deals as well. This Snackimals Cinnamon Crunch Cereal , 255g is on sale from $5.99 down to $3.99. For the holiday season, I might indulge in some Pecan Shortbread, 150g also on sale from $5.99 down to $3.99. For my own personal shopping cart, I just added this Peanut Butter - Crunchy, 500g on sale from $4.49 down to $3.99. This is actually a great price as an average 500g jar of natural peanut butter costs me $5 at Superstore.
My cart is full and I am checking out now. Let me know what you buy at Goodness Me Canada. If you are NEW to the website, you can use one of these 20% off coupon codes as well (once per account). Make sure to choose Free Shipping at the Shipping Method page.
(Expiry: Unknown)