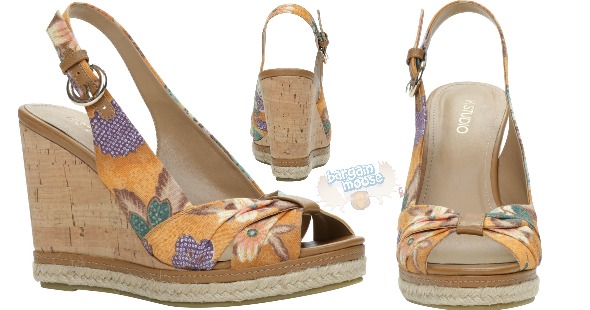 Summer is on the way, and that means it is almost time to break out our sandals and flip flops to head to the beach. To get you prepared for the warmer weather, Globo Shoes Canada has a great variety of sandals in their clearance section starting from as low as $9.98. The sandals that really caught my eye are these K Studio Titiano Wedge Heels. These sandal were $50, but the bright multi colour version is now only $9.98. Spend $50 to get free shipping too.
The K Studio Titiano Wedge Heels will look great on your feet in any setting this Summer. You can wear them to the beach, or even out on a dinner date. They can spruce up a cute Summer dress or accentuate your legs in a bikini. While these sandals would have normally cost you $50, right now they are on clearance sale for $9.98 while quantities last.
If you are not a fan of the bright multi colour option that is available for $9.98, then you could go for the K Studio Titiano Wedge Heels in white instead, The catch is that the white version is only on sale for $24.98, so you're not getting such a great discount. Nonetheless, either pair of heels will suite your wardrobe during the warmer seasons. Their peep-toe style will even show off your Summer french pedicure. I am personally chomping at the bit to get my Summer pedicure done. The slingback strap might be a little uncomfortable for long periods of wear, so grab yourself some heel bandages to prevent any blisters. The sole is made of rubber, so even if you are walking on wet surfaces you shouldn't slip.
I have been looking for a pair of shoes to go with several dresses this Summer, rather than one pair of shoes per dress. I might have found my match. Most sizes are still available right now, so snag the offer while you can. Globo Shoes Canada has a variety of footwear on clearance sale from as low as $9.98, so if these wedge heels are not your cup of tea then you can take a look for a different pair of shoes instead. Spend $50 or more at GloboShoes.com and they will even throw in free shipping. This is great because normally shipping would cost you $5 for standard shipping. Shipping will take 3-6 business days.
(Expiry: Unknown)