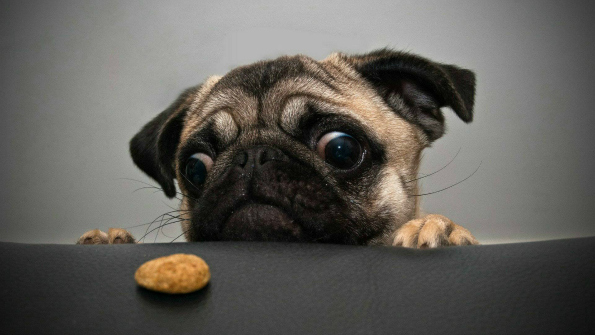 Everyone I know with pets ends up shopping at Petsmart Canada for toys, treats, accessories, food, litter, and more for their pet. Personally, I have bought a couple dozen fish, one hamster, one hedgehog, and a ton of accessories over the years. This weekend, Petsmart Canada has released a TWO sweet coupon codes for you to save. Receive $5 off $30, $10 off $50, $15 off $75, or $25 off $100 orders online (with in-store pickup). I think there is a glitch as I can STACK the coupon codes together for HUGE savings!
Click here to shop @ Petsmart Canada now
Coupon Code: SAVE25OCTOBER
Discount: $10 off $50, $15 off $75, or $25 off $100
Expiry: 25th October 2015
Coupon Code: OCT3DAY
Discount: $5 off $30, $10 off $50, $15 off $75
Expiry: 26th October 2015
I am posting both coupons because one gives you the $5 off $30 whereas the other gives you $25 off $100 and then both cover the middle. Also, they appear to be stacking together so you can combine discounts (until this error is fixed). This makes it not only a good deal but a really HOT DEAL!
If you like feeding your dog good quality food, then pick up a bag of Hill's Science Diet Oral Care Adult Dog Food on sale from $63.99 down to $56.99 for a 28 Lb bag of food. I applied one coupon and it took of $10. I then applied the second coupon and it took off another $10! You can see this in my cart: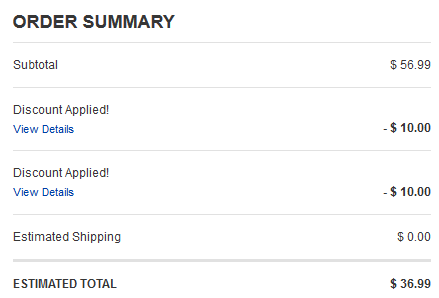 As you can see, it gave me a grand total of $20 off instead of just $10 off my order. It also considered the original price - over $50 - for both coupons. There is also a sale = BOGO 50% off cat scratchers - that can be combined with these coupons.
I do not have a dog, but I do have a large furball of a cat that LOVES to climb and scratch things. Lately he has been scratching the carpet so I think I need to buy him a new cat stand. This Grreat Choice Perch & Climber Cat Tree costs $76.99 and - as you can see - the double discount comes off yet again so the cat tree comes down to just $46.99. You save $30!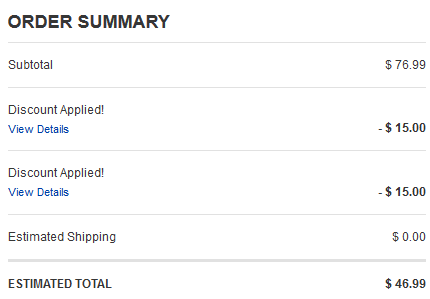 The best monetary values for this double discount are around $50 and around $75 as both coupon codes have discounts for this range. However, you could buy a $100 item and get both the $25 and $15 off for a total of $40 off! You could totally use these coupon codes to load up on pet food, litter, buy your pet a new tree, or plenty of toys. I am not sure how long this coupon glitch will last, so buy as soon as possible!