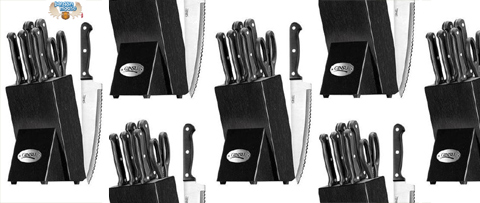 Spotted this deal in one of the newsletters from Newegg.ca, and I thought it could be worth a mention. They are offering the Ginsu 04871 8 Piece Bakelite Traditional Set for only $19.99 with totally free shipping too.
If you need a new set of knives for your kitchen, these could be ideal. I have a similar set of knives in a knife block at home, they're used a lot. They're indispensible in your kitchen really, in particular the bread knife and the kitchen scissors in my opinion.
Here is a description of this product:
Ginsu knives have commercial quality, high carbon, Japanese stainless steel blades. Impact resistant, full tang bakelite handles are triple riveted for strength and durability. Hardwood storage blocks keep your knives organized, safe and ready to use. This set includes a 8-inch Chef's Knife, 8-inch Bread knife, 7-inch Santoku Knife, 5-inch Boning knife 4-1/2-inch Utility Knife, 3-1/2-inch Paring Knife, Shears and a Hardwood Black block.
Does anyone own these? What do you think?