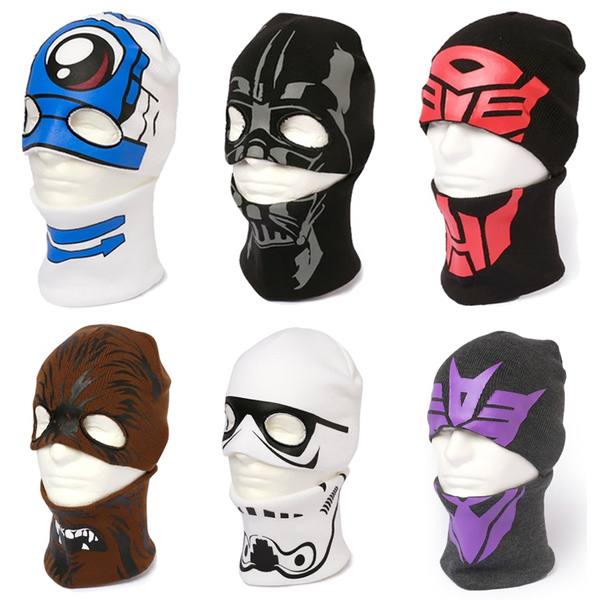 Today on Groupon Goods, I found some really cool kids' items that you might want to consider for Christmas gifts. They are selling a range of hat and neck warmer sets for only $13.99 plus shipping. There are a number of designs to choose from, all in either Star Wars or Transformers themes – two very popular brands with young kids (and adults too)!
This is a 53% discount on the original price of $29.63. Shipping from Groupon is a bit of a bummer here though, because it's an extra $4.99 if you are only buying one item. However, shipping fees stay the same no matter how many you have in your cart – you can order a maximum of five of any one item, and shipping is still only $4.99. You might want to consider placing an order with a friend or family member and splitting the shipping cost between you.
Apparently, these sets are perfect for displaying fandom in cooler climes!! You can easily show you are a fan of either brand by wearing these cool toques and neck warmers.
As for pricing elsewhere, I cannot compare with accuracy because the exact same set isn't for sale anywhere else online in Canada, that I am aware of. There are a few similar sets at a couple of other retailers, but there just isn't the choice in styles and colours that you can see from Groupon above. For example, there's a Star Wars toque and neck warmer set here for $15 at Sears, but there's just that one design and you'd have shipping on that anyway, too.
I've currently got my thinking cap on for a Christmas gift for one of my young nephews. He DOES love Star Wars but I'm not convinced that he would actually wear such a colourful toque set. It might be a gamble if I go for something like this, whether he'd like it or not!
(Expires: Unknown)