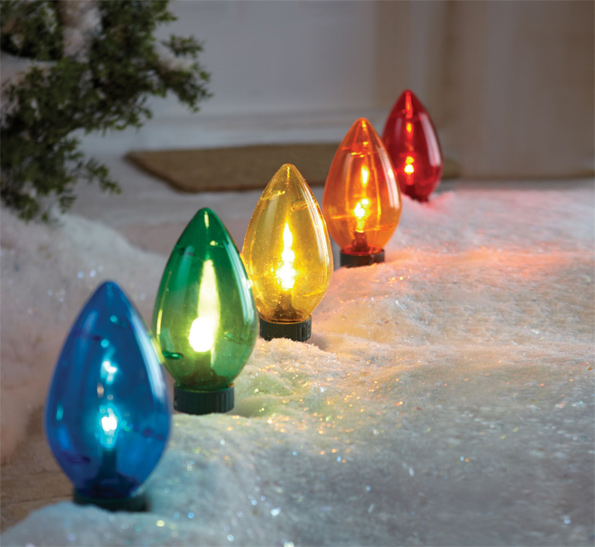 If you want to decorate your yard for Christmas but want to do it in a tasteful way, then consider the deal on this set of 5 giant bulbs from Lowes.ca. It's a set of festive pathway markers, and it's been reduced from $29.99 down to only $25.49!
For this price, you are getting a set of five lights which are each 20" tall, and the lighted area is a length of about 7ft.
Here's a blurb about this type of lovely Christmas light set:
Festively line any driveway or walkway with this delightful, pre-lit marker set! It beautifully lights the way for friends, family and carollers.
That does sound pretty!
But to be honest, I don't think one set is enough. Because Lowes offer free parcel shipping on orders of $49 or more, that means that if you were to purchase two sets, you could get free shipping. If you don't want to do that, then you can always order online and collect locally for free – you can do this right now if you wish.
Or, if you really want to be frugal, order FOUR sets and use the Lowes coupon codeFAMILY10 for an extra 10% off!
I actually found this deal in quite a roundabout way. I was browsing the Sears.ca site as their Sears Day sales are on right now, and in one section they are offering up to 30% discount on select home décor items. In this area, I spotted some really delightful items – lighted pathway markers for Christmas! I saw the WholeHome noël/MC Giant Lights Pathway Marker Set – they're currently 30% off. They were $69.99, but then down to only $48.99. But that led me on a hunt for better bargains and that's how I ended up finding the much better price on Lowes.ca. The lights look almost identical!
And to be honest, there is a beautiful selection of more pathway markers hereat Lowes.ca, with prices starting at only $11.99. There are more designs to choose from!
(Expires: 18th November 2015)