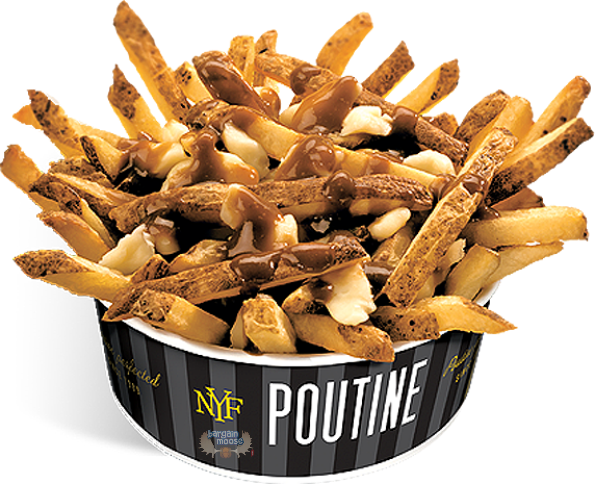 Why not get Mom what she really wants - french fries! Ok, not all moms eat french fries, but I'm sure they all love them and New York Fries is one of the best. Last month Brooke told you how to sign up for the Fry Society, which is New York Fries free loyalty program. This month, if you sign up, you'll get all the same great rewards, but if you load a $25 e-card on your Fry Society, you'll be rewarded with a free poutine!
I'm not completely sure what this poutine is worth and if you can get any of the varying poutines, or just the regular fries, gravy, cheese, but either way, I think it will be all good. It does have to be your first time using the Fry Society for you to get this offer, which is why it makes a great gift. Mom or Dad would appreciate $25 pre-loaded on to a Fry Society account, plus their free poutine. Need a gift for a grad? This would definitely make a great gift for a teenager making his/her way to college because what teenager doesn't eat fries? None that I know.
When I go to New York Fries, I always get The Works, usually the veggie because it has cheese, sour cream, chives and tomatoes and is so delicious. My kids just love the plain fries with some seasoned salt and malt vinegar on them. My husband likes getting just a fry smothered with cheese sauce. It is only 8am and now I'm craving fries!
Head over to our Facebook page today for your chance to win a $25 e-gift card for New York Fries. Besides that contest, liking us on Facebook will keep you up to date on all the hottest deals. Similarly, if you join the Fry Society, you'll find out about the latest offers from them in real time too.
(Expiry: 10th May 2015)