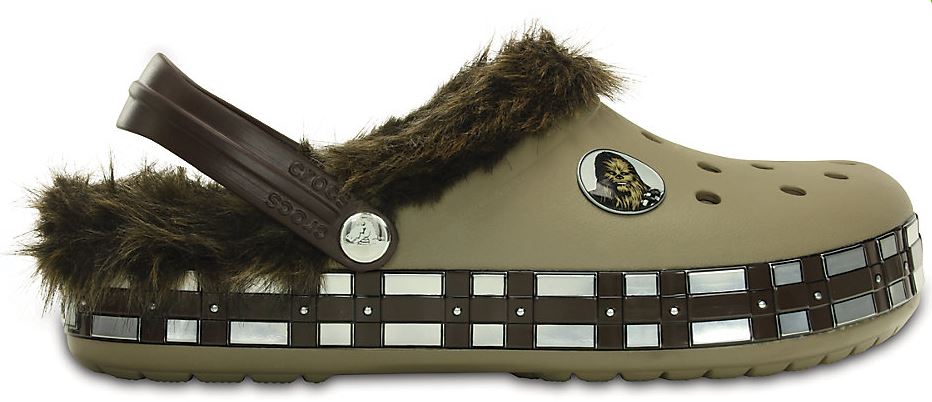 Do you love Star Wars? Do you love Crocs? Are you prepared to combine the two?! Crocs.ca has adorable Men's, Women's and Kids' Crocband Star Wars Fuzz Lined Clogs on sale from  $29.49. There are lots of different options like Chewbacca, Darth Vader and more. This offer is only valid this weekend, so snag these adorable shoes while you can.
There are not only Fuzz Lined Clogs available in Star Wars theme at Crocs.ca, but they happen to be the style on sale right now. I use Crocs for around the house and gardening, so I am happy to see that the Fuz Lined Clogs are on sale just in time for the colder months. Plus the Star Wars characters on the shoes are totally adorable. So the prices start as low as $29.49, which makes them pretty affordable for such a unique pair of shoes I would say.
Kids:
I love that Crocs.ca has these shoes in matching sets for both adults and children. The Kids' Crocband Star Wars Chewbacca Fuzz Lined Clogs were originally $44.99, but right now you can snag them for $29.49. If your little ones prefer Darth Vader, then they can get the Kids' Crocband Darth Vader Fuzz Lined Clogs for just $31.49. These were also regularly $44.99. If you don't care for the Fuzz Lining but still want Star Wars Crocs for your little one, then don't be afraid to browse around. There are Classic Kids' Crocs with a variety of Star Wars characters such as Yoda, Kylo Ren, R2D2 and more starting at $39.99.
Men & Women:
Ladies and Gentlemen, you really only have one option when it comes to Star Wars Fuzz Lined Clogs - Chewbacca. You can snag the Crocband Star Wars Chewbacca Fuzz Lined Clogsfor 50% off, whichleaves you paying just $48.99 instead of the $79.99 regular price. If you don't want the fuzz lining then you can snag the Classic Star Wars Clogs which are on sale for $44.99 right now.
The only down fall to this deal is that you need to spend $100 or more to get free shipping from Crocs.ca. While the minimum spend threshold might seem a little high, you may want to buy these clogs for the entire family. If that is the case, then be sure to use the code SAVE15 to get $15 off $75 or SAVE20 to get $20 off $100. Those codes will make the deal even sweeter if you are going to end up spending that much. Don't forget to check out all the Crocs.ca coupon codes in our Bargainmoose forum.
(Expiry: 23rd November 2015)