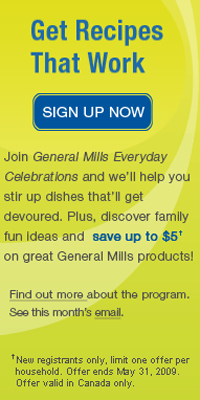 Click here to register for General Mills coupons on EveryDayCelebrations.ca.
In case you aren't aware, General Mills make loads of your favourite products – Cheerios, Pillsbury, Green Giant, Old El Paso, Fruit Roll-ups, Betty Crocker and Pampers… to name a few.
After completing the registration process, you'll receive an email that will direct you to an opportunity to save up to $5 on great General Mills products!
When you receive the email, be sure to have your printer ready and waiting. Unfortunately if you want these coupons, you have to install the "bricks" coupon printer on your PC – but you can uninstall it right away, once your coupons are printed. If anyone from General Mills happens to read this – I suggest you get rid of that coupon printer! I bet it's putting a load of people off who don't want to install some proprietary software just to get your $5 coupons!!
But anywho, if you're willing to install the teeny weeny program, you'll get your coupons.