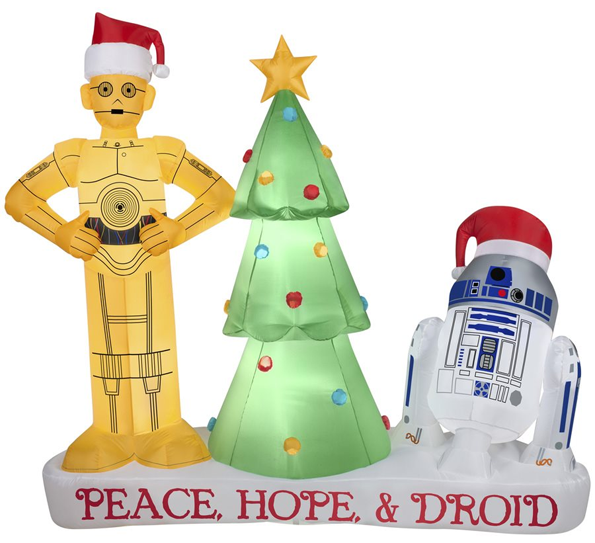 Over the last week or two, the team here on Bargainmoose has been hunting down some fab Christmas décor items with which to festoon your home this coming holiday season. We've also been finding a lot of FAB Star Wars merchandise as the new movie is coming out next month. Today, I am combining those two pursuits with these amazing inflatable Christmas Star Wars Droids! These babies were originally priced at $129.99 from Lowes, but now they're down to only $99.99 with free shipping. :)
How AMAZING would these look on your lawn? You could show the world your love of both Christmas AND Star Wars at the same time.
For this price, you're getting this self-inflating display piece, which stands at 5.5 foot tall. The package will come with everything you need to get this inflated and set up on your lawn, including the fans and the lights. It even comes with tethers and yard stakes to make sure that your beautiful decoration is securely fixed in place. You wouldn't want C3P0 blowing away down the street, eh?
Now, when I found this deal, I instantly thought of the Lowes friends and family coupon code which has been knocking round for a few days, for an extra 10% off $100+. However, it ended at midnight last night – I tested the coupon just in case, but no luck. However, I think did a bit of research and I realised that this Star Wars inflatable has only dropped in price by $30 today – meaning it's a better deal today without the coupon, than it would have been yesterday at full price (plus the coupon).
Also, this is the kind of thing you'd buy once and as long as you carefully store it, you'd have it for many years to come.
Can you imagine having these guys in your yard?
(Expires: 25th November 2015)