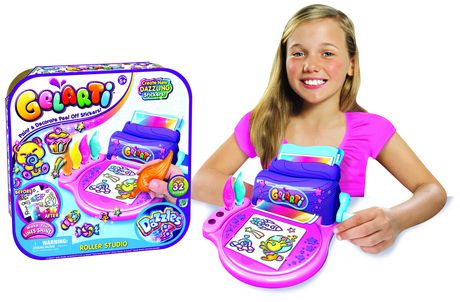 *Bump! Snag this for Christmas while it is back at this low price!*
Here's another fab Christmas gift for a great price. Shop at Walmart.ca while quantities last and you can snag this Gelarti Roller Studio Dazzler for your tween to open up this Holiday season. The Gelarti Roller Studio was originally $24.96, but now it is on clearance for just $15. Plus, you can have it sent to your local Canada Post Office or Walmart Grab & Go Locker for totally free.
The Gelarti Roller Studio - Dazzles will allow your girls to dazzle everything the fun way. They can paint and create their very own reusable stickers that shimmer and dazzle. For just fifteen bucks this is a steal, especially considering it is currently discontinued elsewhere and 50% off the previous Walmart.ca price.
Using the Gelarti Roller Studio is simple, and children between the ages of 5 and 8 will get the most enjoyment out of it. All you have to do is choose the design or image, apply the dazzles sheet and roll it. Once the art is rolled, you can use the included pen item to bring your stickers to life. Then you will have some adorable gel art to stick to laptops, lockers, books and so much more. The best part is that the stickers can be taken off and placed on other items too!
So what is in the box? Here's what is included with the Gelarti Roller Studio:
Designer Studio
sticker sheets (32 stickers)
paint pens
glitter pen
embellishments
and more!
I had something similar to this when I was a kid. I had a big gold fish bowl with one of those beautiful Beta fish, and I would use the stickers to decorate his tank. Even as an adult,  I think I would use something like this in the same way. After all, you are only as old as you feel! Plus, once you run out of stickers you can just use the Gelarti pens to colour items like glass bottles for fun craft ideas! Take a look: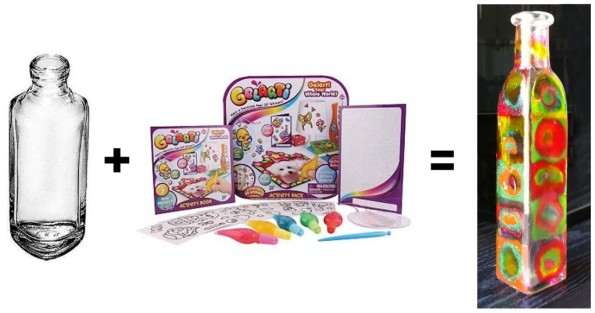 Walmart.ca has a few different shipping options that you can choose from. Since this item isn't anywhere near $50, it doesn't qualify for free shipping right to your home. You can, however, have it shipped to your local Canada Post Office or local Walmart Canada Grab & Go Locker for totally free. There are quite a few fabulous clearance sales on right now, so you might be able to reach the $50 free shipping threshold and complete your Christmas shopping under your original budget if you wanted to.
(Expiry: Unknown)