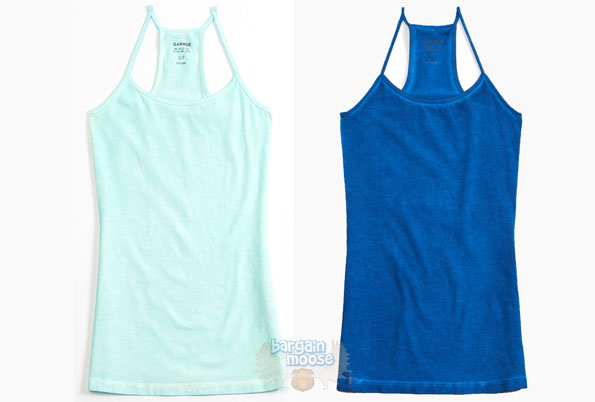 Browsing around Garage's online inventory, I found a fabulous deal on the sprayed racerback cami in blue. Originally priced at $12.95, it's now on sale for just $5. Plus, you can use our Bargainmose exclusive Garage Clothing promotion codeBARGAINMOOSE25G to save an additional 25% and bring down the price of this cami to just $3.75apiece, but take heed as you only have until Tuesday to use it on any order.
Even better is that shipping is also absolutely free on any order right now, so you could order just one of these camis to your cart and not worry about having to add anything else to reach any silly minimum purchase!It's no minimum free shipping offers like those that always convince me to take advantage of a rock-bottom priced deal. A cami for just $3.75 is pretty awesome, especially since nearly all sizes are available. Although the XL size is sold out, you can still order this cami in either, XS, S, M or L.
As the name suggests, it's a racerback cami with thin straps and a sprayed finish kind of look to it. It's 95% cotton and 5% spandex. Garage Clothing's description of it suggests throwing on some necklaces to finish the look, but personally, I would most probably use this cami as sleepwear.
Admittedly, the light blue one doesn't have any reviews, the darker blue one  has one review that is 1/5 stars. I take these kind of reviews with a grain of salt sometimes because you never know how many happy customers just didn't even think of reviewing the product because they were perfectly satisfied with it. In any case, the reviewer mentions that:
This tank was not like the other tanks on the site it is way bigger then the others I order a medium always in this style and this one was huge! plus it seemed almost to stretchy of a material it was very easily stretched to be to long.
It's definitely something to keep in mind but I won't be letting it deter me from taking advantage of an awesome price! Will you?
(Expiry: Unknown)