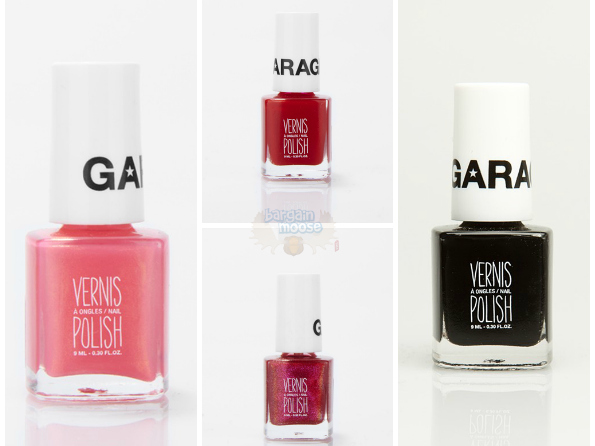 Are you looking to jazz up your nails this summer? Garage Canada has a large selection of nail polish discounted from $4.95 down to $2. Usually, Garage had a $50 minimum for free shipping, but this weekend they are offeringfree shipping with no minimum.
There is a vast selection of nail polish colours you can purchase - 12 different colours in fact. I am just going to highlight a few of them.
Mango is a lovely neutral colour perfect for summer time. For those days when you do not want your nails louder than your outfit, throw on a coat of Mango for gorgeous milky nails. Beige is also a great neutral as well. These colours might actually match some skin tones. I think this colour is like a pair of good nude pumps: it never goes out of style.
For the Goth chicks, black is always in style. It just becomes a wardrobe basic - your nails will match your boots, jeans, top, and hair. Matchy-matchy! For a little more pizazz, you can purchase a daring Purple Sparkle through the same link. I have a couple items in my wardrobe that would look fantastic when accented by the purple sparkle polish.
I am a big fan of Purple nail polish, especially one that looks like someone just squeezed plums into my cosmetics. This is a yummy plump purple just ripe for wearing. In a couple weeks I will be getting a professional manicure. I asked the spa if I could bring my own nail polish as I have the loveliest mountain purple ever. They said yes!
There is also an entire string of pinks and reds for you to choose from if you like those colours. Some are a matte finish like this Raspberry and some are full of sparkles like Pink Sparkle. I also think their Red has really nice and deep colour saturation. I would like to combine it with a little black dress for a fancy night on the town.
There are several other shades to choose from as well. I think this is a good deal because each bottle of polish is only $2 (save $3) and you receive free shipping on any order - no matter how small. The free shipping offer extends over the entire website.
(Expiry: Unknown)