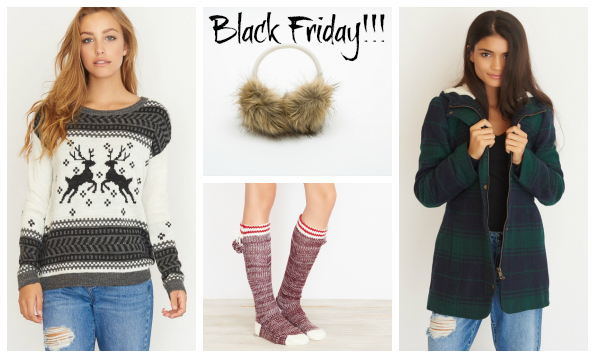 Garage Canada has launched their Black Friday sale early! Receive 40% off all regular priced items, up to 50% off sale items, and free shipping on ANY order with no minimum. On top of that, Garage Clothing is offering a free $25 cash card with any $75 or more purchase. I am not sure the restrictions on this offer, but it is currently advertised on their website.
All I can think of right now is Christmas sweaters and winter accessories. With 40% off regular priced items and free shipping - you get to make your own deals! ThisJacquard Sweaterwith pretty little reindeer is currently $44.95. Once you add it to your cart, it comes down to $26.97. The Reindeer Sweatermakes another great Christmas sweater that is not so ugly. Originally $49.95, you pay just $29.97 for this sweater.
I would totally freeze this winter without nice winter accessories like these Fur Earmuffs. Originally $19.95, they come down to $11.97 in my cart. Cute faux fur earmuffs for $12 with free shipping - I think I can do that! I really hate having my hair covered anyway. These Shaker Stitch Mittens were $16.95 but come down to $10.17 after discount. There are a couple colours available.
The sale section is full of deals. First on my list - and yours too - should be The Wool Coat in black or in navy/emerald. Originally $129.95, this winter coat is on sale for $65.
When considering accessories, you should check out the Cable Stitch Eternity Scarf on sale from $22.95 down to $8. This lovely simple Slouchy Beaniewas $12.95 but will only run your $5 right now. Adorable little Over The Knee Socks are on sale from $16.95 down to $8. I find myself gravitating towards over the knee socks and leg warmers come winter. For some reason, I like to sit around the house in shorts but my legs get really cold.
In the sale section you can also find this Classic Sweater on sale from $36.95 down to $15. I find this sale excellent for budget constraints because you can pick up shirts for so little.
If you are looking for more generic gifts, try the Feel Good Candlefrom $12.95 down to $7.77. It is perfect to stick in someone's stocking. There are also plenty of other gift ideas like socks with pompoms, slippers, and more. This is a great sale and they do have some of the cutest clothing too!
(Expiry: 27th November 2015)