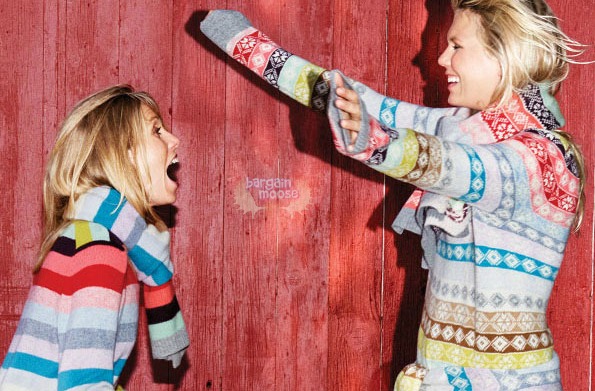 The Gap is having a huge sale right now for friends, family and Moosers. Get 40% off your entire purchase with promo code.
Click here to shop @ Gapcanada.ca now
Coupon Code: GAPFAMCA
Discount: 40% off
Expiry: 10th November 2014
I am so loving their stripey holiday looks! Being a frugal Mooser, I don't tend to shop and buy myself new stuff unless I really love it, and I am definitely shopping this sale. The stripes are too cute to pass up. When winter has you down, this clothing will bring you back up.
Let's start with the Fair isle stripe wool sweater. Seriously, this is a freaking cute sweater! Regularly $54.95, with this coupon, your total will come down to $32.97. That's an over $20 savings!
Maybe you like to keep your outfits more simple, but add a stripe of colour in your accessories. This holiday stripe wool scarf should do that job well. It was $49.95, which honestly, I would never pay for a scarf. But, $29.97 is much more reasonable and what you'll pay with the coupon code added.
The only exclusions besides the regular (shipping, gift cards, etc.) are that you can't apply the discount to the GapKids or babyGap Kate Spade and Jake Spade lines. That's unfortunate because it is super cute!
The stripes aren't just for women either. I had to get each of my boys this holiday stripe trapper hat. Regularly $26.95, I got it for $16.17 each.
I couldn't leave out my husband either, who says the kids have more clothing than he does (they do). I know he adores stripes and also needs to be warm, so this lambswool holiday stripe sweater is the perfect look for him. I would have normally paid $59.95 for this sweater, but with this coupon, he'll be warm and stylish for only $35.97.
If you have family photos booked, imagine a look of everyone in stripes. I think that would be fantastic! Of course, if you despise stripes, the Gap has lots of other styles that would suit all tastes.
At first I was worried that I wouldn't have enough stuff to get me to the $50 minimum for free shipping, but of course I made it over. Be sure to check the forum for more Gapcoupon codes before you shop this holiday season!