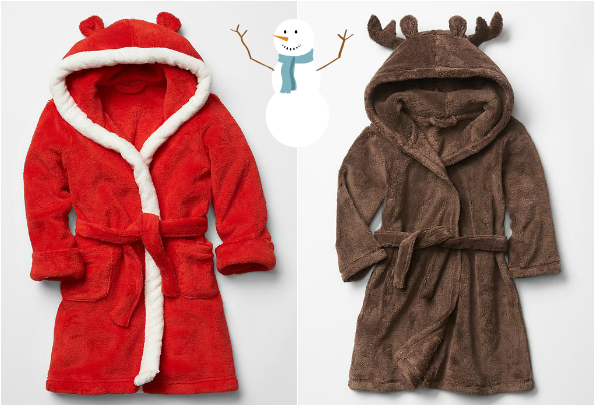 While exploring The Gap's awesome deals today, I ran across what might be the greatest deal of them all: animal themed hooded robes! This Festive bear hoodie robe and this Festive reindeer hoodie robe are both on sale from $44.95 down to $15 today only for their early Black Friday sales.
OMG these are the cutest robes ever! The bear is in red with white trim around the front opening. It has cute little bear ears on top of the hood, which any child would love. I have never seen a red bear myself, but maybe he is a Santa-bear. The Reindeer is my personal favourite as it comes with a set of antlers on top of the hood! Honestly, those look more like moose antlers to me.
These robes are super adorable and would make fantastic Christmas gifts for young children. Each robe goes in four sizes based on age: 2 Years, 3 Years, 4 years, and 5 Years. It will depend on your child's size, but robes are designed to be loose fitting and perfect for a variety of sizes and shapes.
The animal robes are made of soft fleece to keep your child warm and cozy. They feature a tie at the waist to keep the robe on and long sleeves for ultimate warmth.
I highly recommend picking up a couple of these robes for your kids. You will receive free shipping on orders of $50 or more, so I have added on a bunch of the other fleece deals so you can top your cart up. There are a bunch of fleece hoodies on sale for just $15 as well.
There are plenty of sizes in stock in all of these children's fleece lined hoodies. These are a great way to stock up on warm winter essentials for your child AND get free shipping on your order (over $50). These are also the lowest prices I have EVER seen these hoodies and robes!
(Expiry: 25th November 2015)