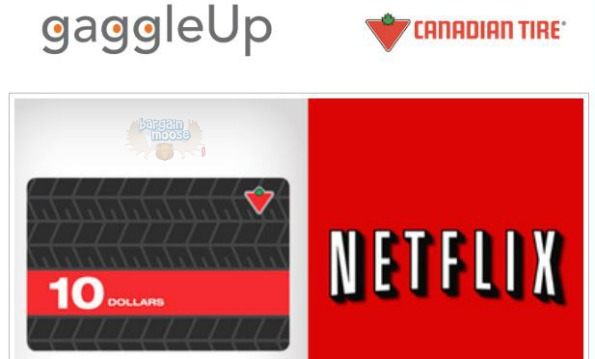 There is an awesome deal right now from GaggleUp and Canadian Tire. Sign up for a free 30-day trial of Netflix and get a free $10 Canadian Tire Gift card. You can cancel after the 30 Days and keep the gift card so you won't be charged a dime!
The value of this deal is $18 but it is yours absolutely free. You can continue to get netflix on a monthly basis after the first free month but you will be charged for it. If you just want the free month and the free gift card, you will have to remember to cancel the Netflix after 1 month so you won't be charged.
Here are some of the details for this deal:
Limit of one purchase per order
Offer only available in Canada for new, first time Netflix customers and their households
Separate transactions are required to redeem package from Canadian Tire and Netflix
GaggleUp "Buy Now" button initiates two-step process: signup to GaggleUp (to participate in offer) and to Netflix (to sign up and get the first 30-days free)
Netflix offer requires credit card information at sign up, but recipient will not be billed for the first 30-days
Recipients will only be billed by Netflix if they continue services with Netflix, post the first 30-days
Netflix recipient can cancel any time, online, and must cancel before the end of the free 30-day period to avoid being billed
No refunds or credits for cancellations during the 30-day free period
Please allow at least 4 weeks after you've completed the required action to receive your Canadian Tire gift card
This offer expires May 31, 2012
The Canadian Tire gift card has no expiry but you must activate the Netflix by 31st May 2012 for the free month trial. This offer is valid only for new customers to Netflix so unfortunately if you already have an account with Netflix, you won't be able to get this deal. Watch as many movies and TV episodes as you want on your PS3, Wii, Xbox, PC, Mac, iPad, AppleTv and more with instantaneous Netflix streaming.
(Expiry: 10th May)