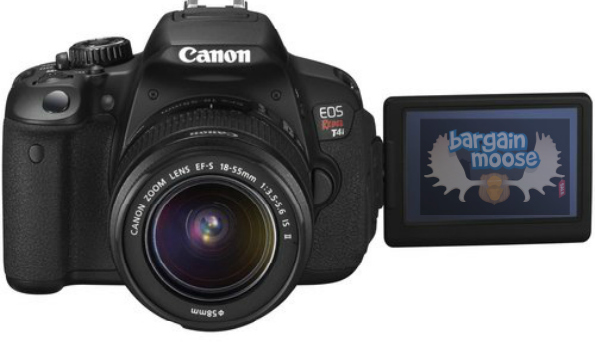 Future Shop is sick of you taking it's picture with flash bulbs. It's getting embarrassing and it wants you to get a new camera. I know it's hard to part with ol' sparky so they'll be giving you a sweet deal on an awesome camera and all the accessories.
This bundle is normally $969.99 but you save $290. That means you're only out $679.99 for the whole bundle! Not bad. A lot of people have been talking about this camera. It's a good camera and the price is right. It's perfect for a prosumer. Most people aren't going out to get a Canon 5D  Mark III at around $3000 but there are people who have moved beyond a $200 point and shoot.
It comes with:
Canon Rebel T4i 18MP DSLR Camera With 18-55mm f/3.5-5.6 IS II Lens Kit
Digital SLR Lowepro Bag
SanDisk Extreme 16GB SDHC Class 10 Memory Card
There are a lot of uses for a camera like this beyond your traditional touristy/sight seeing/family photography. Video for instance. There are a lot of people who are doing video work with DSLRs nowadays. I know there was an entire episode of House, "Help Me", the season six finale (great episode), and some parts of season seven were shot using a Canon 5D Mark II. Obviously you wouldn't want to shoot House on a T4i but if you're doing some low budget/amateur stuff, it's be great.
And if this camera isn't your thing, there are tons of cameras on sale at FutureShop, right now!
(Expires: 29th December 2012)