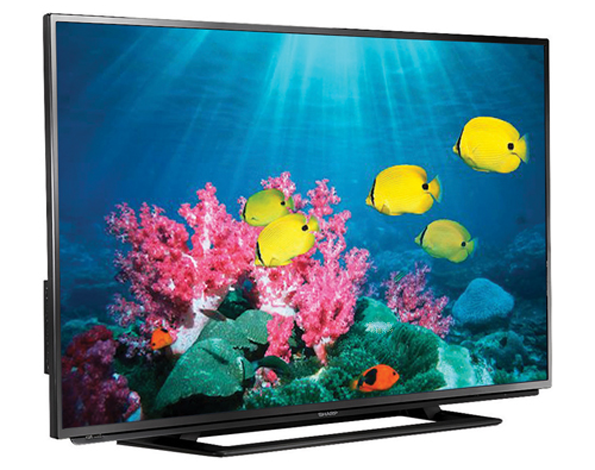 Good morning, Bargainmoosers! I hope you're all pumped for Halloween today! Whether you're accompanying your children or friends, or if you're going to be handing out treats at your door later on today, it's bound to be an interesting evening! For 3 days only, Future Shop is having a sale on some of their televisions, and I found this particular model to be a great selection for those that want an affordable flat-screen TV from a reputable brand. You can now purchase this Sharp 42" 1080p 120Hz LED TV for only $399.99 - that's $100 off the retail price of $499.99! You'll also qualify for free shipping, which is always a nice bonus!
This Sharp 42" 1080p 120Hz LED TV has the right size to please anyone that's looking for a great LED TV for their living room. Heck, for this price you can even spruce up your basement or bedroom by bringing home this 42-inch LED television! I currently have a 51" TV in my living room, so I would definitely consider getting this for my bedroom. However, I'm going to send this article to my father, since his current living room television is a projection TV, and he would love to get an affordable flat-screen to watch his favourite shows on - does soccer count as a favourite show?
With 120Hz and a 1080p resolution, this is one great TV for the price! It currently costs $499.99 at Best Buy as well. I've included a brief review of this Sharp 42" 1080p 120Hz LED TV from a satisfied Future Shop customer below:
Very impressed with this TV and how slim and light it is, was a breeze to set it up to my wall mount. Would definitely recommend this TV to anyone , best deal at this price range due to the fact it has 120Hz.
This deal expires on November 2nd. Let's hope that they remain in-stock throughout this sale! I hope you all enjoy your Halloween today!
(Expiry: 2nd November 2014)