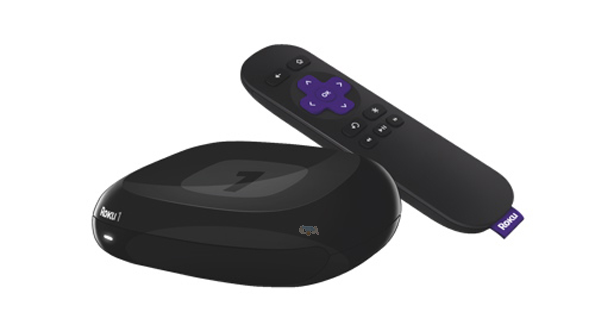 Now this is quite a deal! Today only, Future Shop is having a sale on their Roku 1 Streaming Media Player. It normally sells for $59.99, but you can now buy this intriguing piece of technology for only $39.99! You'll also qualify for free shipping, which is always a sweet bonus! What makes this bargain even more enticing is this limited time offer from Roku - if you buy a new Roku Media Player, you can get a $25 Cineplex credit! Just click here for more details on that bonus offer! With many great movies coming out in theatres soon like Dumb & Dumber To and Foxcatcher, you really can't go wrong with a nice $25 Cineplex credit!
My parents have a Roku player, and they use it daily! You can use this Roku 1 Streaming Media Player to watch movies and TV shows from Netflix and other content providers. You could also browse the web on your TV with this device, and even check out your Facebook page! This thing can do it all.
If you're looking for a way to watch online content on your TV, then this is it. If you don't want to go through the hassle of hooking up your computer to your television, then you should consider getting this Roku 1 Streaming Media Player. My parents aren't very tech-savvy, and they have gotten the hang of using this media player to watch some of their favourite movies. It comes with its own remote, too, and has an HDMI port so you could easily hook it up to your TV. All you need to do is set up your internet connection on the Roku, and you'll be enjoying a wide variety of videos in no time!
If you wanted to buy this Roku 1 Streaming Media Player from Best Buy, it would cost you $59.99, and it's $69.98 at WalMart. Listed below is a snippet of a review of this device from a satisfied Future Shop customer:
It allows you to access a lot of free web channels, including Netflix.
Get this while it's still available, folks! Happy hunting!
(Expiry: 13th November 2014)