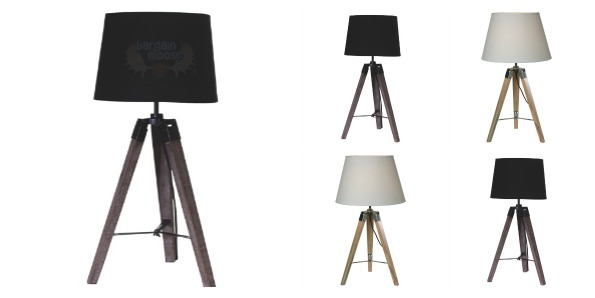 Let there be LIGHT! So we are getting into the gloomy days of where daylight keeps getting shorter and the lights come on earlier and earlier. If your home, like mine, is quite poorly lit then you need to invest in a new lamp or two right away. Pick up a Gen-Lite Tripod Lamp for $76.99 to $77.69 (depending on colour). You save $33 off the original price of each lamp and get a wicked cool lamp.
Now for a little story. I have actually seen and handled this lamp in person - I love it. It seems to be good quality; it looks visually interesting and feels solid. I nearly purchased it too except it had the thingy for turning the lamp on upon the cord and I really do not like that. In addition, I had found the lamp at The Brick supposedly during some huge sale. I was mindful enough to price compare and was floored at the markup. This lamp is priced at $139.97 right now on The Brick's website (when I enter my postal code). The lamp is also $138 at Home Depot and $119 at Lowes. What all this should tell you is that this is a great lamp at a VERY good price at Future Shop (and Best Buy) right now.
This lamp comes shaped like a tripod, which is about as funky as you can get. As a person who loves photography, you are certainly talking my kind of lamp. Next, the three wooden legs are made of reclaimed wood and finished with a distressed look. Don't worry, this tripod won't suddenly close up on you. The metal crossbeams lock into place with a screw so your lamp is sturdy and secure. Anything that is not wood is either lampshade or made of metal.
The one lamp has a white fabric lampshade with brown legs. The black lamp is just that - black with distressed legs and a sackcloth lampshade. There are not very many of these currently in stock. Currently there are nine white lamps and five black lamps. However, if these sell out you can also find the same deal at Best Buy. Just click here for the black and here for the white. Quantities are also limited on their website.
Receive free shipping on orders of $25 or more.
(Expiry: 30th October 2014)