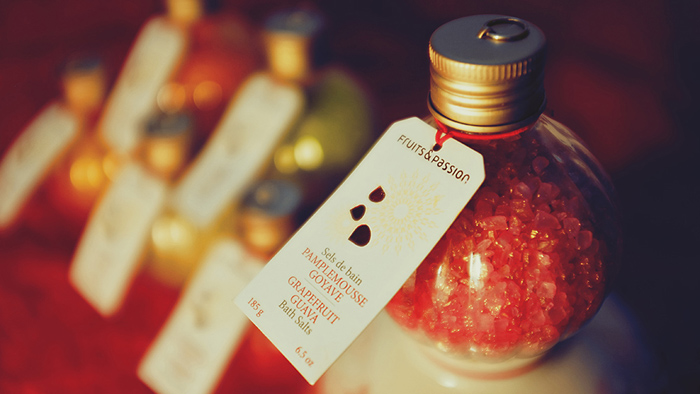 I love when we get exclusive coupon codes to score great discounts on popular items. Fruits & Passion has not only given us one coupon code, but they have given us three! And each coupon will also give you totally free shipping when you spend the required amount to get the discounts, which definitely sweetens the deal. So are you ready to save some money on your favourite products from Fruits & Passion? There are even stocking stuffers for as low as $2.50!
Here's a great chance to get your hands on some fab Christmas gifts or even some items to treat yourself with. Fruits & Passion is one of my favourite places to shop for myself, for many reasons. They have so many items from skin care, body care, fragrances and so much more. Of course I headed directly to the sales section, but you will want to know what our exclusive coupon codes are before you dive into your shopping spree.
Here are our new exmoosive coupon codes for Fruits-Passion.ca:
$10 Off $40:
Coupon code: MOOSE10
Discount: $10 off $40+
$20 Off $70:
Coupon code: MOOSE20
Discount: $20 off $70+
$30 Off $100+:
Coupon code: MOOSE30
Discount: $30 off $100+
Fruits-Passion.ca has a few different promotions on right now, so take a look around and grab the items that you need in your life. They have a last chance section, 5 for $20 section, travel size 5 for $20 section and shower cream 2 for $15 section. My frugalicious instincts sent me right to the last chance category, naturally. In the "Last Chance" area I found items discounted up to 50% off their regular price. There are great stocking stuffers for as low as $2.50. This promo actually has me excited! If there are too many options for you to choose from, then you can always try your hand at the Surprise Bags! There is a $15 Surprise Bag which could provide you with a variety of items for your stocking (or personal) needs. Who knows, maybe you will find your new favourite product. The $15 Surprise Bag has a minimum value of $36.50, so the discounts are already grand.
Normally Fruits-Passion.ca offers free shipping on orders over $85. Right now they have a promo on the website that will get you free shipping on orders over $45, but our exclusive coupon code does even better. Not only will it save you money on your purchase, but it will also give you totally free shipping. Can't get much better than that, can it?
You can view all the Fruits & Passion Canada coupon codes in our Bargainmoose forum.