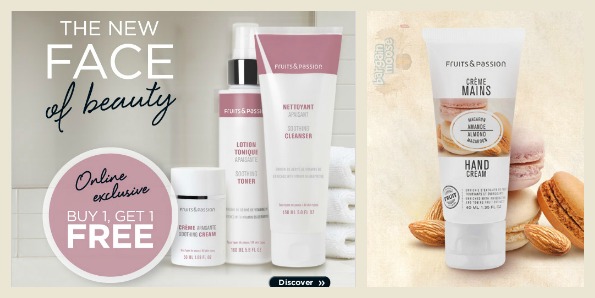 Right now, all skincare products are BOGO free at Fruits & Passion Canada.
Okay! Let us get a couple things straight right off the bat. Fruits & Passion has a small skincare selection so do not expect pages and pages of products. In fact, this is the sum total of the skin care products they offer:
You get to choose from six products. However, quantity does not make up for quality and quality is what matters. These products are formulated without DE/DEH phthalate, formaldehyde and benzene. They are also Triclosan, Colorant, Mineral oil, Alcohol, and BHT free. Fruits & Passion do not test on animals nor do they use any animal-sourced ingredients. In summary, they eliminate a whole bunch of harmful chemicals.
Add two products to your account and receive the cheaper one free. One of the great things about this deal is the pricing. There are only two price points for six products so you can easily maximize your savings. The sucky part is if you buy two of the more expensive products and two of the cheaper products it takes off the price of the two cheaper products. You may need to divide your order into two to take advantage of this deal.
Now, there are extra bonuses that make this deal even more delicious. Firstly, receive three free facemasks with any purchase of $35 or more. They have a value of $7.50.
I also ran across a sweet little promotion where you can pick up a new product, the Almond Macaroon Hand Cream, for just $2 (limit one per customer) with your order. For a 40ml bottle, that is an awesome little deal. Make sure to add this to your cart if the banner for it does not pop up properly.
Lastly, Fruits & Passion usually offer free shipping on $85 or more. That might be why the last time we posted about them was at the beginning of August. However, they are offering free shipping on $45 or more right now, which is a much easier minimum to meet.
If you have any trouble meeting that minimum, then check out the Clearance section for deals starting at just $5. That is how I like to shop, find out how much more I need to reach the free shipping minimum and then hit the sale section.
(Expiry: Unknown)