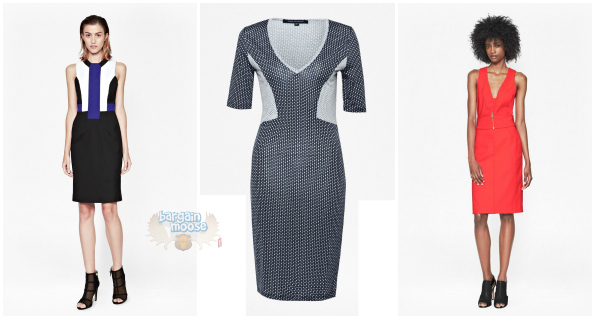 French Connect is offering 78% off this lovely Mini Modern Mosaic Dress. Originally $138, this dress is now on sale for $29.99. Shipping is usually quite expensive, thus you will want to use coupon code - FCCA50 - to receive free shipping on orders of $50 or more.
While the sale is supposed to be up to 60% off, this dress and a few others are quite generously discounted. I adore the cute little pattern on this dress. This dress is a gorgeous blue with white pattern and then contrasting side panels in white with blue pattern. The V-neck has a matching trim to the white panels.
The dress is currently available in all sizes: 0 through 10.
As I mentioned above, there are many other amazing deals on dresses in the French Connection sale. As you will want to meet the $50 minimum for the free shipping, then you will want to check out a few other dresses.
This Monroe Stretch Dress was $148 and is now $39.99. The dress is made of celestial blue and white fabric colour-blocked with a black border. The deep neck has a sweetheart dip at the middle.
There are a few dresses that qualify for shipping all by themselves. The Riobamba Beads Dress is the steepest discounted dress of them all. Originally $258, the dress is now $59.99 with free shipping. The white fabric would make this an excellent choice for summer with the beads providing extra visual appeal.
Next, I want to mention this Romeo Stretch Zip Detail Dress with major sex appeal. This scarlet red dress has a plunging neckline. The waist belt detail on the front has a zipper feature. Originally $238, this dress is on sale for $59.99.
For something more business appropriate, the Edyta Stretch Panel Dressfeatures a high neck with black, blue, and white colour-block panelling. With a bodycon fit, this dress will show off your curves while remaining conservative enough for any meeting. Originally $228, the dress is on sale for $59.99.
While I mention several dresses in this post, the featured dress is still my favourite. Not only is it the highest discount - percentage wise - it also has a really pretty pattern and a great cut. I would wear that dress in a heartbeat.
Shop these deals and more at French Connection Canada.
(Expiry: Unknown)