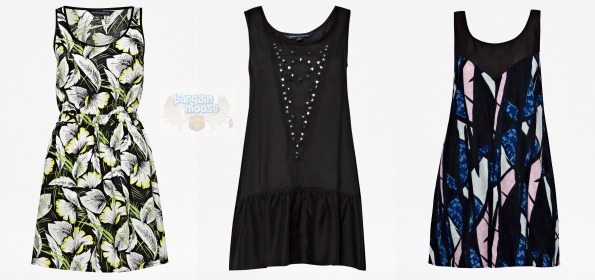 French Connection has a sweet sale on right now and I found a few dresses on sale from $98 marked down to just $29.99.
Dresses for $30 from FCUK? How can you resist? Well, you really do not have to because these sales totally rock and there are plenty of sizes still in stock.
Let us start with the maxi dresses. This Polly Plains Maxi Dressis a black cotton racer back with a v-neckline. While this dress is a solid black for all you Gothic little chicks out there, it does have plaited straps in a contrasting colour that looks reddish to me. Those will give you a pop of colour around your face. Sizes XS through L are still in stock. Our second maxi, the Tropicana Maxi Dress, features a flower print with a drawstring at the waist for a more defined hourglass. The drawstring and the straps are in a contrasting black. Again, full sizes are available in the Tropicana.
The Amakhala Tie-back jersey dress features an abstract leopard print. It also has a funky little strappy bit up at the bust line. Do note: I am not sure the colour of the dress you receive will be the same as on the website. They say, "Only color available is the OatmealMarl/Black color" and the colour in the picture certainly does not look like oatmeal. The Amakhala Palette Crepe Dress is also on sale. It features a more defined bust line and a flared skirt. The dress also has long sleeves, which is a big plus for many girls. The Amakhala Palette dress is oatmeal and black in colour so I assume the dress above will be the same colour as this one. Both of these dresses are in sizes 0 through 10.
The Hot House Short Dress is another great print dress that could transition from summer to fall with the right cardigan and boots. Like the others, it was originally $98 and is now $29.99. Size small sold out, but the other sizes are still in stock.
While not quite as discounted as the other dresses, two other dresses were $88 and are now $29.99. That is approximately 65% off, which is still a great deal. Pick up the Shadow Dance Playsuit or the Emily Embellished Dress for that discount.
Receive free shipping on orders over $100 when you use coupon code SHIP100 - shipping is expensive under that so I suggest you reach the minimum. Maybe team up with a friend and place your order together.