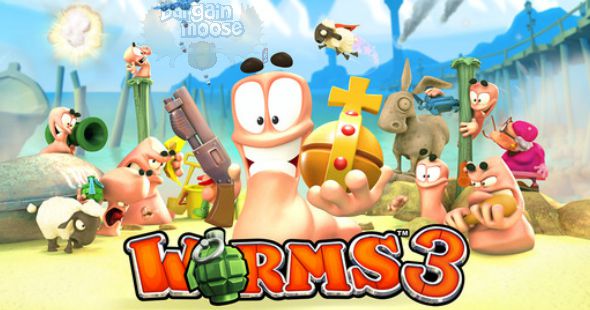 Looking for a way to pass some time? Download the Worms 3 game through iTunes for free right now, but be quick. Just head on over to the App Store on your Apple device and download Worms 3 for free. This game was regularly $4.99 and worth it at that price but since it is totally free right now, it is a steal!
This is a great game for your iPhone, iPod or iPad! I can't believe they've made it free for a limited time. I would have paid the full price of $4.99 to be honest. This game is a best-seller, and for many good reasons. I used to play this game on my PSP when I was younger. While it does contain some fantasy/cartoon violence, I would still allow my children to play it. You simply use cannons to blow up worms and what not, no blood or gore.
This game has quite a few more options than it used to. When you open the app you can choose between local and online. Without using the internet you can access the options Campaign, Quick Game, Practice Match, Body Count or Press N Play. Online you can create a new game and play against others. I like campaign though. I like earning the in-game rewards and using them towards unlocking new features.
This game has not really changed much since I was a kid. Except now you can play online against friends and dress up your crew with hats and different accessories. This is the first of the series to be able to be played on a touch-screen device though, which is pretty ground breaking for the series. So take charge of your crew of four worms and tackle the opposing forces. The aim is to wipe out the opponent before they get rid of you first. This will depend greatly on how you build your team of four worms.
So if you are looking for an entertaining single-player game that has a pretty interesting multiplayer mode, then look no further. Worms 3 is the game you will want to download, and right now you can snag it for free through iTunes Canada.
(Expiry: Unknown)