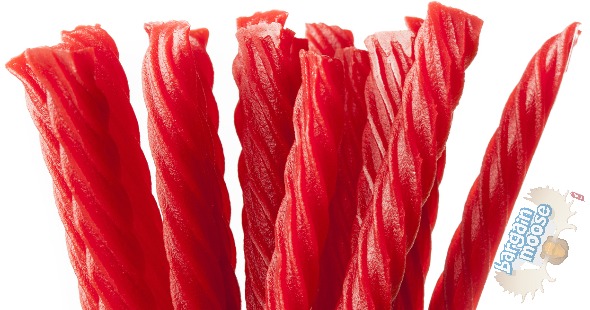 I really do adore these 7-Eleven Canada Free Day Friday offers. Most Fridays 7-Eleven Canada offers a new freebie through their mobile app "Scan & Save" offers. Just download the app to redeem your freebie, easy as 1, 2, 3. Today you can use your 7-Eleven Canada mobile app to get a free Strawberry Twizzlers Singles. No purchase is necessary to redeem this freebie offer either, woo-hoo!
Twizzlers have been a favourite treat among many families for ages. You can eat them as is, or twist each section of the delicious candy individually to savour the sweet taste. Whichever you prefer, you can do for free with this 7-Eleven Canada Free Day Friday offer. Today only, login to your 7-Eleven mobile app and redeem one free Strawberry Twizzlers Singles at a 7-Eleven store near you.
As a kid I remember easily eating an entire bag of the strawberry Twizzler licorice. It is a little too sweet for me to do that now, but I wouldn't feel guilty about consuming a Strawberry Twizzler Single, especially since it is free. You deserve a treat. Who knows, maybe it will bring back some good memories. I am glad this freebie is not for the black licorice flavour though, as I am not a fan. Strawberry is a pretty generic flavour that most people would enjoy anyhow. For Fathers Day I am putting together a Daddy's Zombie Survival Kit like Kristy blogged about yesterday, so perhaps I will toss this little freebie in the kit as a snack to go with the "protein" and other survival kit items.
There always seems to be plenty of offers available through the 7-Eleven mobile app. Of course the offers vary by location, but for the most part they remain constant throughout our provinces. I have seen lots of 7-Eleven Canada offers that include buy one get one free, freebies, and more. Just click the savings opportunity you want to enjoy and the app will direct you right to your local store to do the rest.
(Expiry: 19th June 2015)