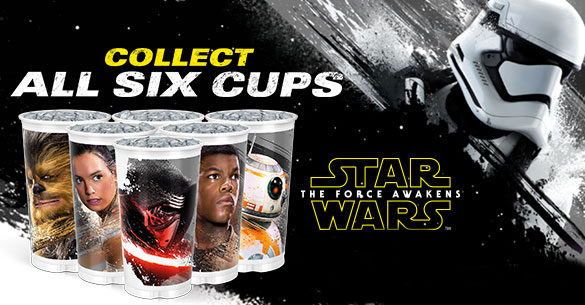 Star Wars is quite literally everywhere right now, and Subway Canada has just jumped on the bandwagon. Right now you can stop in at your local Subway Restaurant and get a free collectible Star Wars cup with the purchase of a 21 oz drink. Which cup will you get?
There are six different cups to collect, so I guess that means you're going to need to eat at Subway six times before this promotion expires - or convince a friend to give you their cups. There is no expiry date listed for this offer, so you best get your favourite cups now before it is too late. The 21 oz fountain drinks at Subway Canada will cost you around $1.60, so when you factor in the free collectible cup then that's a steal of a deal.
They only have five cups shown in the advertisement - so my curiosity has me wondering which character is on the sixth cup. Which character do you think is on the sixth cup? If you are going to be visiting Subway six different times for the duration of this promotion, then you might want to learn the Sub of the Day to get a discount on your lunch or dinner while you are in to collect your Star Wars cups. 21 Oz is pretty big for a cup! So hopefully you have lots of space to store all of these for your hubby, or even for yourself.
Here are the Subway Sub of the Day deals:
Monday - Steak & Cheese
Tuesday - Subway Melt
Wednesday - Sweet Onion Chicken Teriyaki
Thursday - Turkey Breast
Friday - Tuna
Saturday - Subway Club
Sunday - Onion Roasted Chicken Breast
Okay now I am just plain hungry. The Sub of the Day offers allow you to get a footlong for $6 or a 6-inch for $4. I love the Sweet Onion Chicken Teriyaki so I put my best effort to visit Subway on Wednesdays. Not to mention that tomorrow is National Cookie Day so you will get a free cookie at Subway Canada as well - double whammy?
Moosers, which cup are you aiming to take home with you?
(Expiry: Unknown)