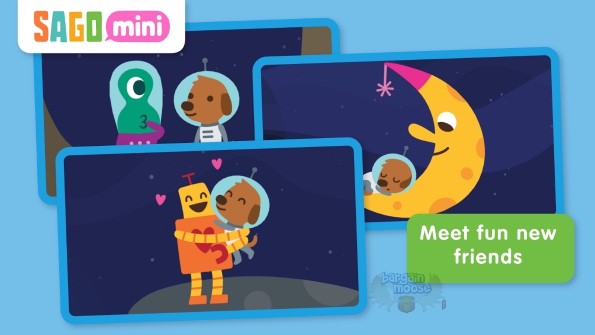 As I mentioned before, Google Play is offering free albums, movies, and applications each week for busy parents and excitable kids. These freebies are all family oriented, which means they are suitable to entertain kids. This week, download Sago Mini Space Explorer for free. Usually, this app would cost $3.49.
Visit the following link and the free app should pop up on your screen. If not, then just click on the green banner to download your sweet little freebie. Load the app only your child-friendly android device whether you have a tablet or a smart phone that your child can play with.
The name of the game is Sago Mini Space Explorer and your child plays guides Harvey the dog into space. Make friends with aliens, fly around in a saucer, have an interstellar picnic, explore the stars and planets, and have a lot of fun. This app supports open-ended play designed for toddlers and preschoolers. Using their finger, they will move Harvey through space and guide him to yellow markers to play fun animations. There are more than 30 animations to discover.
One happy parent said:
My daughters toddler to teen love sago mini apps. We got this one free for my husband's iPad as Starbucks app of the week. Now we have all the sago mini apps on both platforms. More sago mini for Android please!
Most the reviews rave about how awesome this game is and even adults seem to like it. One reviewer said she would recommend it to all her colleagues! My favourite feature of this game is the no in-app purchases or third-party advertising. That way your child is free to discover without interruptions or without turning to you and begging for this or that downloadable feature that is not included in the game.
If you want to read more about the free app: click here. Make sure to use the main link above if you want the app for free as it triggers the promotion while this link would sell it to you at regular price.
(Expiry: Unknown)