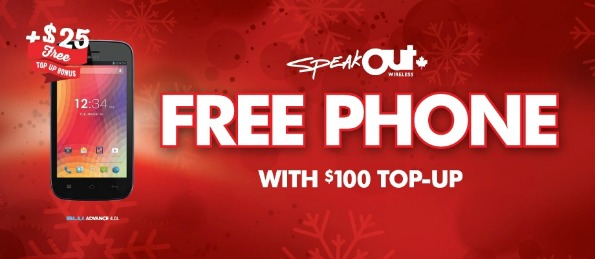 7-11 Speakout has a fantastic deal on right now for are tech-savvy Moosers. When you purchase a $100 top-up, you will also receive a bonus $25 credit AND a free cell phone valued at $79.99. In total, you are getting $105 worth of freebies when you spend $100 on a top-up for your phone.
This is a high-value promo for anyone wanting to switch phones over to 7-Eleven Speakout or for anyone who already is with Speakout. The only disadvantage is you will need to pay shipping for the phone if you place your order online. Shipping rates vary per area in Canada.
Free Phone Details
You are getting the BLU Advance 4.0L Black Android phone for free - it has a $79.99 retail value. The phone's details are:
4GB/512MB RAM
Up to 64GB
2 2FF SIM slots
KitKat 4.1 Operating System
Here are some of the reasons you might like this phone. First, it can be expanded up to 64GB memory. Secondly, it has dual SIM card slots allowing you to pop in a different SIM when traveling abroad. Thirdly, the phone is free and nothing beats free. When you add the phone to your cart, you will be asked if you want to get Choose Your Top-Up Amount - pick the $100 top-up to receive the phone and additional credit for free.
Free $25 Credit Details
The free $25 credit bonus is equally easy to score. Simply activate the $100 top-up before January 3, 2016 to receive the bonus. You have two months to activate the top-up card to receive the bonus credit.
Notes
A Speakout SIM card is not included with purchases so you can transfer your own to the phone if you are already with 7-Eleven Speakout or you will need to purchase that separately. If you want to avoid shipping charges on the phone, visit your local 7-Eleven to see if they also have the promo in store and in stock. If so, buying in store is the best way to go. Even with shipping charges online, this is still a pretty hot deal as the free phone and bonus credit are worth $105, which is more than you are paying for the top-up card.
(Expiry: 3rd January 2016)