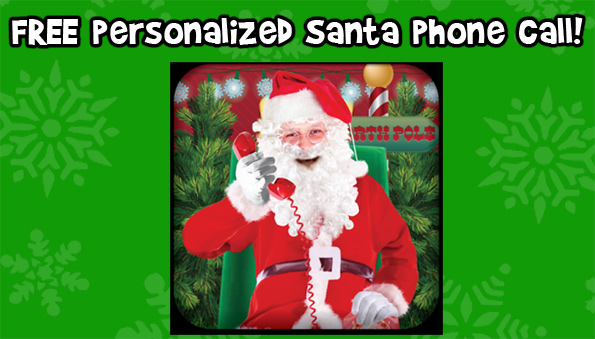 Would your child like to get a phone call from Santa? I am 100% sure that they would enjoy this. And I think you'll enjoy it too – because it's totally FREE! You just have to download the app for either iOS or Android to get the free personalized phone call for your kiddo, and you'll get one free phone call from Santa!
The package from Santa app is currently free, though they say this is for a limited time. For this free phone call, this is what you will be able to do:
Get 1 free personalized Santa call
Choice of the date & time for the call
Choose from some unique Santa messages
Photo of the child will appear on the call screen
Call can mention your child's age, country and more
This sounds fantastic!
I haven't tried out the free Santa phone call yet, but I will be giving it a go soon – for my five year old daughter. She absolutely loved the Portable North Pole video last year, so she will also adore this free Santa phone call!
And don't forget to get your child to write their letter to Santa and Canada Post will reply – read this thread for all the details on that.
And also don't forget that Bargainmoose is THE place to go for amazing Christmas deals, kids' Christmas freebies and more!
(Expires: never?)