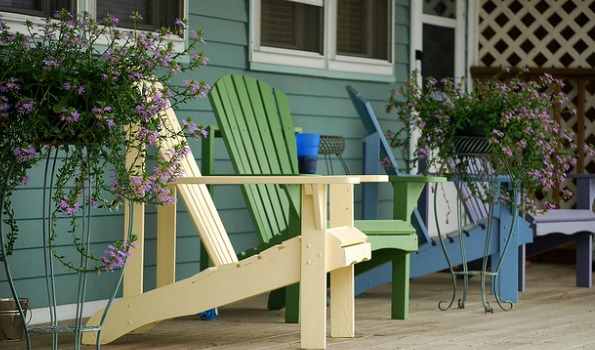 New free workshops are available at Home Depot Canada! Every month Home Depot hosts a series of workshops that can help you improve your home and learn some new skills. This month three workshops, including one workshop for kids, is available. The focus this month is spring projects. You must register online to attend these free workshops.
Build A Picket Fence Frame Kids Workshop (Saturday May 9th)
My daughter has taken one of these workshops with her dad, and it was a great way for the two of them to bond. Build a picket fence frame with a hammer, small nails and wood glue. Best of all, leave the mess at the store and take home your project. If you have never tried one of the kid's workshops, it is a fun day out. Kid's workshops are for ages four to twelve.
Build a Vertical Garden (Wednesday May 20th)
This workshop is right up my alley as I love to garden. With this workshop, you learn how to build a vertical container garden. You will build a frame for your garden, learn about annual and perennial plants and talk about the basics of tending a vegetable garden. Your thumb will surely look greener by the time you leave. If you do not have a backyard, a container garden can easily be installed on a balcony. This workshop is part of the Do-It-Herself series for women.
Build A Deck (Sunday May 24th)
Here is a project that some of you may be eyeing for your own backyard. Building a deck seems simple enough until you are knee high in nails and boards. In this workshop, you will discuss safety procedures that you should consider for this project. You will also learn how to install a joist, install decking and name all of the parts of a deck. As I had to look up the term joist to make sure I was correct that it involved the support beams, I think I should attend this workshop myself. There is a note that this workshop is not available at the Cambie location.
I cannot speak to the quality of the home workshops, as I have never taken one for adults. What I can say is it can be useful to ask questions before you start a big project and to have someone guide you through the basics if you are not a construction pro. If you are considering starting one of these projects, you could potentially save yourself some money by learning the basics first.
Image Credit: Sarah G
(Expiry: 24th May 2015)