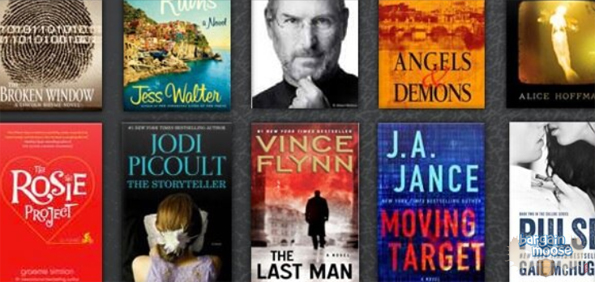 Entitle Books hasn't yet been mentioned on Bargainmoose, but I wanted to tell you about their free trial offer in which you can download a free eBook, no strings attached!
In the free seven day trial, you are entitled to download one eBook for free, and it's yours forever. You can download it to your device (tablet or phone, etc.) and it's stored there. In order to sign up to the free seven day trial you have to enter your credit card details. If you do not cancel within seven days, you will move on to the subscription plan which costs $9.99 per month. If you only want to get the free book, remember to cancel within seven days.
Here are a few examples of the eBooks you can choose from, across some different genres:
Best Sellers & New Releases
Stephen Hunter – Sniper's Honor
Gail McHugh – Pulse
Steve Jobs autobiography
Sci Fi / Fantasy
Michael Crichton – Next
Robin Hobb – Dragon Haven
Jack McDevitt – Infinity Beach
Classics
George Orwell – Animal Farm
Joseph Heller – Catch 22
Gary Paulsen Hatchet – (I remember reading this as a teenager, it's good)
I had a browse of the selection of eBooks on Entitlebooks.com and I'll admit, it's not huge. There are more than 200,000 books to choose from and that's a large number of books, but that's across many genres and types. I looked in the sci-fi and fantasy section which I would be very au fait with, and while there were a number of good titles, the selection wasn't amazing – only 32 books!
Even so, this is a very handy offer for one free eBook. I've downloaded a big juicy Stephen King book and I'm going to be reading it on my iPad when travelling for my vacation next week.
After the free trial on Entitle Books, you're subscribed to their monthly plan, any two books for $9.99 per month. To be honest, that's actually still a very good price – being able to download two full size eBooks for only $5 each. And the fact that you can cancel the plan at any time and keep the books is a real bonus. I am going to read this Stephen King book, see how much I like the actual app, and then I will be considering going on to the monthly plan for a few months and saving a few more books from their library.
(Expiry: never)