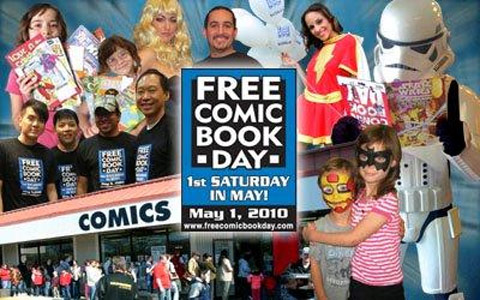 It's that time of year again, Free Comic Book Day in Canada! It's coming to a comic book store near you on Saturday the 1st of May 2010.
I'll tell you a bit about free comic book day now, then I will bump this thread closer to the date.
What is Free Comic Book Day?
Free Comic Book Day is a single day - the first Saturday in May each year - when participating comic book shops across North America and around the world give away comic books absolutely FREE to anyone who comes into their stores.
I posted about this event last year, and had a few interesting comments from Bargainmoosers. Ozwalled recommends that you check out  Bryan Lee O'Malley (totally Canadian), in particular his Scott Pilgrim series. Willowsprite recommends checking out Action Philosophers!
I personally recommend the Sin City books, V for Vendetta, Sandman… though my tastes are probably very commercial when it comes to comic books. I recently saw Kickass and I hope to get the graphic novel for it - I loved the movie!
UPDATE: hypergeek.ca has a full list of details about the comic books in this promo.