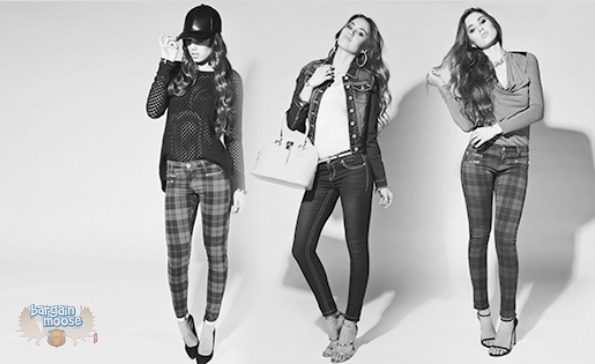 Introducing you to another Canadian store, you'll want to check out Foxy Jeans. Based out of Montreal, Foxy Jeans has a team of talented designers who create innovative designs, so you know the clothing you purchase from them will be unique! They also offer a fairly standard free shipping threshold of $50, and have a nicely full sale section. We've got a 30% off exclusive coupon, that will get you a discount on anything that is not already on sale on the site.
Click here to shop @ Foxyjeans.com now
Coupon Code: FOXYMOOSE
Discount: 30% off
Expiry: 30th June 2015
Because this coupon is on regular priced items, I like to look at the new arrivals to see what new styles I can pick up with a 30% discount. I need a new pair of jeans and these 5-pocket skinny jeans with a saddle stitch are hot! Regularly $69.99, after coupon the price comes down to $48.99. Typically, good quality, well-designed jeans are going to cost you upwards of about $80 to $100, so getting a sexy pair like these for less than $50 rocks!
Because I'm just short of free shipping total, I also added this adjustable strap tank with front chiffon detail to my cart. This top is insanely sexy without showing too much skin. I like that the straps are adjustable so you can position that V in the most appropriate way. This top will look great with the jeans. Regularly $29.99, in my cart it comes down to $20.99.
If there is one item of clothing you want to be unique from everyone else, it could be your swimwear. You really don't want to be on the beach comparing how you look to someone else in the exact same swimsuit. Foxy Jeans has some great swimsuits, pretty much for every type of body and they come in mix and match styles. I absolutely adore this push-up bra top for the simple reason that it doesn't look like a push-up. It looks like all that's holding you up is strings. Regularly $44.99, you'll get this top for $31.49.