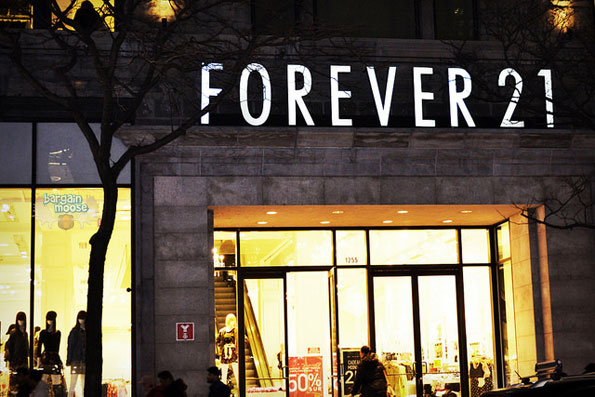 Good morning, Bargainmoosers! Today only, Forever 21 has a coupon code available where you can save an extra 50% on sale items! Just enter the coupon code below to reap the benefits of this great discount! Shipping will also be $8.95, but if you order at least $60 worth of apparel, you'll get free shipping. Online apparel shopping for the win!
Click here to check out the sale items @ Forever21.com now
Coupon Code: EMAILEXTRA50
Discount: 50% off
Expiry: 9th October 2014
Whenever I've been with friends that were shopping at Forever 21, I'm usually entertained by the many eclectic styles and accessories that I'd see in the typically-massive retail locations. There are so many things to choose from that it's pretty fun to just walk around and check out their latest merchandise. You just can't help but respect a place that sometimes sells retro Guns N' Roses t-shirts and moustache-laden merchandise!
The prices are quite affordable at Forever 21, too. Some of the apparel and footwear that you can get some great discounts on with this coupon code include these Must-Have Sandals (sale price is $37.80 - $18.90 with coupon code), this Dotted Fit Flare Dress (sale price is $26.40 - $13.20 with coupon code), and these Low Rise - Destroyed Boyfriend Jeans (sale price is $28.30 - $14.15 with coupon code). You can also check out all the accessories that are on sale by clicking here.
I've included a snippet of a review of Forever 21 from a customer that posted on Yelp below:
They have the most amazing selection of underwear for $5, great little sleeping outfits for less than $20, bras for under $20 and they come in all colours, shapes and sizes. Awesome. 
If you need to refresh your wardrobe, you should use this Forever 21 coupon code to do so without breaking the bank! It always helps to take advantage of a great sale - especially when you're saving 50% on merchandise that's already on sale! I hope you all enjoy your day, Bargainmoosers!