Forever 21 Canada: 500 Favourites Under $5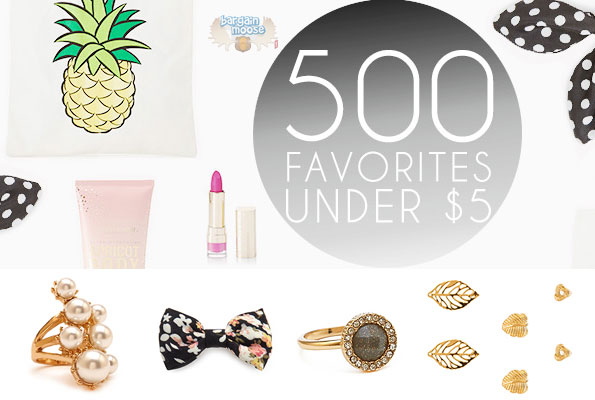 Forever 21 has assembled a collection of 500 favourites under $5 and there are some pretty fab finds at a great price!
Although it will take a little while to load, the best way to get through all of these items is to sort by price, from low to high. From there, you will see plenty of great accessories like the lacquered rosette ring for just $1.80 or even the high shimmer lip gloss for the same price! Lip glosses like these tend to run upwards of $5, so this definitely makes it a great deal, especially since you can get one in every colour: cocoa, pink, magenta, purple, dark purple and daiquiri.
I'm particularly excited for the hair accessories because as I mentioned in a previous post, I have been making my baby girl headbands for cheaper than I get ready-made ones. With Forever 21's favourites section, I have found plenty of great pieces like the enchanted lace headband set, the chiffon bow barrette and the watercolor bow hair clip set, all for $1.80 each!
I also spotted some really unique finds that I haven't seen anywhere else, like the striped eyelash curler for $4.80. The curling part is gold-coloured, while the handle is mint with light blue and white stripes. It's definitely a tool I would love to have in my make-up kit instead of the regular ones sold at pharmacies. There is even a round ceramic curling brush for just $2.80!
Although slightly misleading, you can also take advantage of Back to School Deals from $4. Why misleading, you ask? Because having a quick look around, the only $4 deal I found is on the roll-brim knit beanie. Everything else is higher in price, though arguably still reduced in price nonetheless. In fact,  I did spot the most adorable striped bow top for girls. It's on sale for $11 (reg. $16.80) and comes in either a pink/charcoal combination or a royal/oatmeal one. My favourite is the former and it's definitely a great pick for the first day of school, which is fast approaching.
Although they're labelled as back to school deals, there are plenty more picks for adults as well like this ditsy floral print dress. Summer isn't over yet and it would definitely look great with a pair of sandals. I would even wear this dress with tights and a cardigan in the winter. Originally retailing for $21.80, it's now on sale for $14. It also comes with a faux leather waist that serves to complete the look.
Shipping is free on orders over $60.
(Expiry: Unknown)