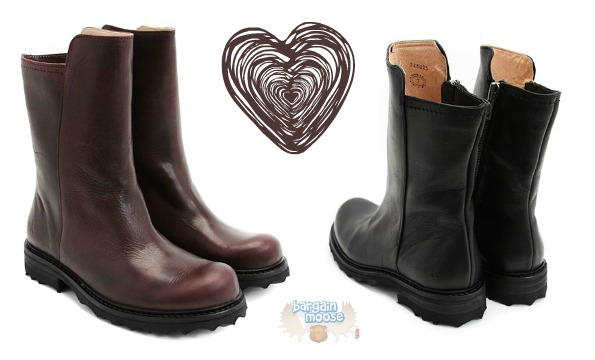 Fluevogs Canada has discounted the F-Shoes | Bing from $339 down to a mere $99! These are solid leather boots that are great for nasty street conditions because the F-sole has an aggressive tread. This deal is just so sweet.
You can choose from black, burgundy, or a dark green. They have a side zipper for easy in-and-out and according to reviews they tend to run a bit big so you might want to size down. I contacted a Fluevog store to consult on sizing before I ordered a pair for myself. A pair of these babies in black will be heading my way any day now. :D Most sizes are still available and they have half-sizes which is great for those of us (like me) in between sizes.
Here are some loving reviews:
So simple. And so perfect you'll wear them every day. Like all F-shoes, keep you ridiculously warm and dry and have great traction while keeping you stylish as well. Look fantastic with trousers and cute with knee-length or shorter skirts, sporty gone upscale. I only wish they had more colors.
Once again, another pair of boots that I somehow overlooked and now think are fabulous! The burgundy is a deep, rich color and I would have considered green but already have green Chapots. I'm mostly a 7.5 in shoes and 99% of the time I'm an 8 in boots (Simon, Chapot, Nuni, Lover, Inge, Luna, Hudson) so when I heard these ran big I thought a 7.5 would be fine, but there was heel slippage, which leads to blisters, so I tried the 7 and they were perfect.
I highly suggest consulting an expert for sizing. You can choose them in what you think is right and have them contact you to confirm - or you can email (or phone a store) before placing an order.
I really wanted a pair in the burgundy as well - but as I placed myself on a budget I figured 1 pair of really sweet leather boots was spoiling myself enough. However, if they do fit like the dream I am imagining - I might just have to get a second pair.
Shipping is $16.
Expiry: Unknown