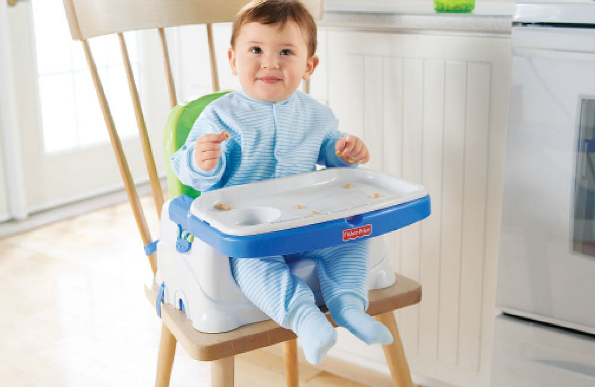 The Toys R us Outlet at eBay Canada is chocked full of good deals. I found this Fisher-Price Healthy Care Booster Seat on sale from $44.99 down to just $26.97. Even better, the Toys R Us Outlet on eBay is offering free shipping with no minimum on this booster seat.
The Fisher-Price Healthy Care Deluxe Booster Seat is great for feeding baby at home and on the go. The booster seat has a feeding tray you can sanitize right in the dishwasher for easy clean up. The tray also has a snap on lid, so your child's tray remains completely clean until you are ready to use it. This is great for keeping the tray clean when you are traveling.
The booster seat part has three height adjustments to fit at pretty much any table. The booster chair folds up compactly so you can take it with you to grandma's place or a restaurant. There are both front and rear straps that adjust to fit most chairs. If your child tries to wiggle out, just strap them in with the three-point harness. This harness is also adjustable for different sizes of infants.
The entire unit is easy to clean as there are no crevices to trap crumbs. Essentially, this is everything you need in a booster seat for one low price. I checked out the competitors and you will pay $44.44 @ Walmart.ca and Amazon Canada. While the booster seat is on sale for $26.97 @ Toys R Us, you will have to pay additional shipping as they only give you a $10 shipping credit. For me, that would be an extra few dollars. The free shipping deal on eBay Canada certainly makes this Booster Seat the best deal there.
Reviews rave about this booster seat by Fischer-Price. One reviewer at Walmart Canada said:
This is our 3rd purchase of this chair. We love it SO much because: - It folds down easily for travel - It wipes clean very easy - or trays can be thrown in the dishwasher - Cover tray keeps it sanitary during transport - Adjustable for baby's belly - Can be used as a booster chair once baby outgrows! - [...] We absolutely love this chair (we have 3 now!) and highly highly recommend!! It is a brilliant design!!
Most people give this booster seat a 5/5 star rating because it is the perfect booster seat for any occasion, whether home or away.
(Expiry: Unknown)