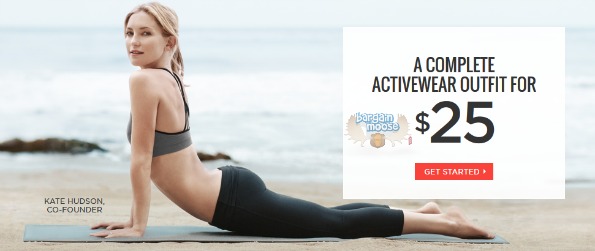 Ever heard of JustFab? Fabletics is a sister company for athletic wear. You sign up for a no-obligation account and are sent athletic wear each month. There is no obligation to buy, but you will receive 50% off your first order with a VIP Membership.
Once you sign up, you must take advantage of the 50% off deal within 24 hours. This is a short time frame, but that is all that Fabletics allows. You will get to choose from two and three piece athletic wear outfits. Prices are very reasonable; with a two-piece gym outfit starting at just $24.95 after discount (was $49.95). That means each piece is just around $12.50 - cheap for athletic clothing.
So how does Fabletics work? If you are a member of JustFab then you are familiar with the routine. For those of you who are not, here is how it works.
On the first of each month, they email out outfits suggestions.
You can buy anything that catches your eye, or make sure to

skip by the 5th

of each month.
If you do not make a purchase or skip the month by the fifth, you will be charged $49.95 for one member credit on the sixth. Remember to take action!
You can skip as many times as you like, there is no limit and thus there is no 'obligation to buy.' You just need to be on the ball at the beginning of each month to make sure you skip as necessary (or buy if you wish).
There are a couple other things to note. Your VIP Membership does not start until you have made your first purchase. Until then, you just have a regular account with Fabletics.
Now, you can order your first awesome outfit at 50% off and then cancel your membership. Unfortunately, companies are getting wise to how much Canadians hate actually calling customer service, so the only way you can cancel your membership is to call customer service. They will not accept anything over social media or email.
If you would like to cancel your VIP Membership and stop receiving monthly selections, please contact Member Services at 1-844-833-6220 so that we may assist you.
Write that phone number down somewhere so you do not lose it. Of course, when you call customer service they will try to talk you into staying. I just had that happen with another company. Be firm, but nice.
Shipping is always only $4.95.
(Expiry: unknown)