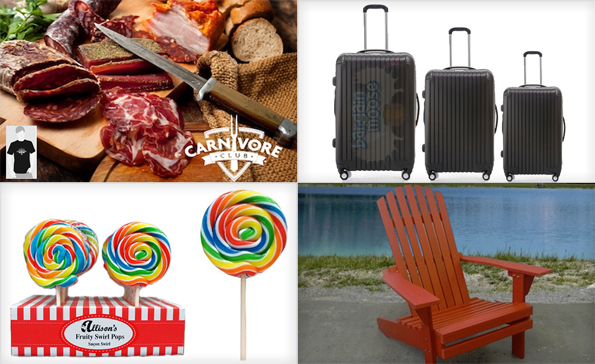 This is a rarity, but we've been seeing a few more of these over the last few months – a Wagjag coupon code! This time, you can save 10% on ANYTHING on the Wagjag site, just apply the promo code when you are checking out. Here are all the details:
Click here to use the Wagjag coupon code online now
CouponCode: BARGAINMOOSE
Discount: 10% off
Expires: 20th May 2014
This coupon code is in celebration of Canada's Deals & Coupons Month, which we've mentioned before here on Bargainmoose. Thanks to our friends at the Canadian Deals & Coupons Associationfortheir assistance in arranging this exclusive!
Wagjag is one of the top daily deals sites in Canada, and there are a ton of items and experiences on there. I've used Wagjag quite a lot, both for buying products for myself as well as buying prizes for Bargainmoose contests on here.
Lately, I've been keeping my eye out for some new patio furniture for myself. I spotted this deal on Wagjag – two Adirondack Muskoka Chairs for $499 (or $449 after the coupon code, pictured above). On the Velago  website, these chairs are $579 each! The deal states that the price doesn't include shipping. However, when I tested the deal on their website, shipping said from $49. If you are interested in this offer, you might want to give them a call to check on the shipping fee before buying. I think the chairs are beautiful; I'd love these in my garden.
I love the sound of this one – the Father's Day Collection of Cured Meat from the Carnivore Club. This Wagjag costs $55, and would be $49.50 when you add the exclusive coupon code above. I believe shipping is included in the cost too. Never mind Father's Day… I'd want this deal all to myself! I am such a carnivore, and a pressie from the Carnivore Club would be ideal for me. If you're racking your brain for a Father's Day idea, consider this one.
Please note: Bargainmoose newsletter subscribers got advanced word of this Wagjag coupon code yesterday – make sure you are subscribed to the synopsis of all our Bargainmoose deals. You'll get a daily feed of what's happening on the blog, and also a special curated weekly newsletter.