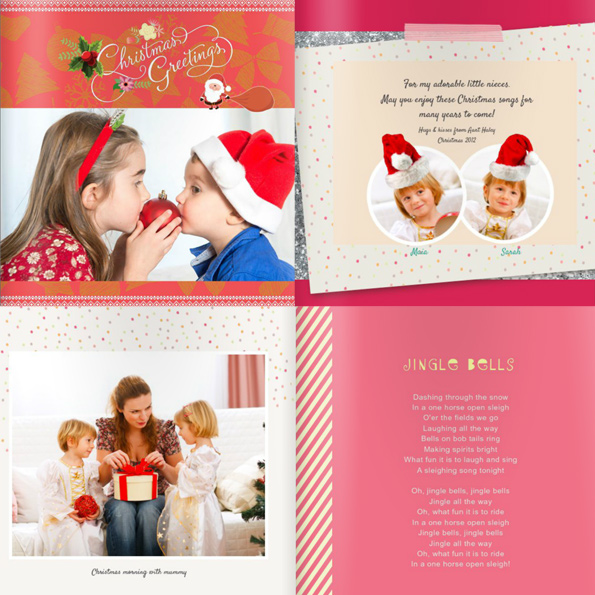 I've got a fantastic and frugalicious Christmas gift idea for you guys today! We've set up an exclusive coupon code with Photobook Canada, to give a really super deal on some of their personalised items. You can choose from either a FREE 6x6 mini softcover photobook worth $23.99 or a FREE desk calendar worth $19.99. With this coupon code for PhotobookCanada.com, you only have to pay for shipping to get the item to your home – and this actually works out to be a fantastic deal!
Click here to use the Photobook Canada coupon code online now
I first tested out the exclusive coupon code on the 40 page 6x6 photobook. As you can see in this screenshot below, it discounted $23.99 off the total cost. I believe shipping depends on where you live, but I choose the $4.99 option and the total amount payable including tax ended up being only $5.64. This is a brilliant price for a little photobook – and a really cute little stocking stuffer too.

In the image at the top of this blog post, I've shown extracts of the Christmas Carols: Vol. 1photobook - isn't it cute?
As for the 28 page desk calendar, it may depend on where you live, but I was able to choose a $7.99 shipping option and it then came to $7.99 in total (no tax on this?). Again, this would be a super gift idea too.
I am imagining making one of these for my partner's mom, or Granny as she is known in family circles. I think the desk calendar would be a good bet. I could stock it up with piccies of my little ones. I think that photo gifts like this are very thoughtful – you put a lot of time in to choosing the right images, laying them out well, making a lovely item. The recipient doesn't need to know that you got a fantastic deal on it from Bargainmoose!!
Please let us know in the comment below if you take advantage of this deal. :)