Need a pair of glasses? Grab a pair for as low as $90.20 with the ultra-thin lens. Use our exclusive coupon code to receive 25% off your prescription lens plus you will receive free shipping and a few freebies for your new specs.
Click here to shop glasses @ Smart Buy Glasses now
Coupon Code: BARMOO25RX
Discount: 25% off prescription lenses
Expiry: 31st May 2015
Smart Buy Glasses has some great options for specs on a budget. I looked at the less expensive frames on the site and had a large range of choices for men, women and kids. Sort by price, shape, or choose other features in the left-hand side menu to choose the perfect pair of frames to hold your newly discounted lens.
Lenses
The cost of your lenses are going to vary depending on the type of lenses you need, but our coupon code can help you out. This code covers prescription lenses only, it does not cover reading glasses. Some frames come with free basic lenses and a few frames also have a plastic lens option for $29. The next step available on almost all frames is the $59 lenses with a lighter and thinner -1.61 index lens that many people prefer. With our coupon code, you will save $14.75, making your total for lenses $44.25.
Price Comparison
I took a look at what some of the other companies online were offering for prices on their lenses. Clearly Contacts offers two lens packages when you click on a pair of frames. The less expensive package is the -1.61 index lens and is being offered on sale for $49.95. Contact Lens Club offers a slightly thicker 1.59 index lens in their lens packages options. The menu is a bit confusing as they do not include all of the prices while you are choosing, but the cheapest combo I could manage was $65.00. A thinner lens would be more expensive. These prices only go up if you have a specialty prescription such as an astigmatism like I have.
Frames
My husband has been saying he needs glasses for a while so I took a look at the budget frames for him. If I was picking out a pair for him, I would grab the SmartBuy Collection Aidan 206 E for $45.95. These frames are made of metal and have a nice colour that will blend nicely with his hair. If he ends up needing reading glasses which are not prescription, the lenses would be free with this frame. With a pair of thin ultra-thin prescription lenses, his total came to $90.20 with frames and the lenses.
Warranty and Exchange
Smart Buy Glasses offers a great return and warranty policy. Your glasses will have a full 24-month warranty against all manufacturer defects. In addition, you have a full 100 days to return the glasses in unused condition. I have not shopped online for my glasses before, but this guarantee has me considering it for my next pair.
Try Them On
If you are still deciding on a set of frames, you may want to look to the left side of the screen at the "virtual try on" option. This option is available for some frames and allows you to use your webcam to get a better idea of how these glasses look on you. My favourite furball will model a pair for you below.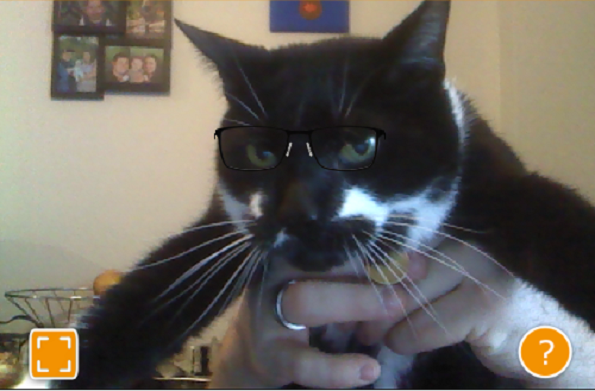 Freebies
Smart Buy Glasses also throws a couple of freebies into your cart valued at $25. You will receive a free cleaning cloth, a bottle of lens cleaner and an optical screwdriver. The screwdriver will come in very handy for tightening up your frames as they loosen slowly with time. Those tiny screwdrivers also work well for fixing and changing the batteries on kids toys and electronics in a pinch. I keep one of these screwdrivers in my car.
It is worth going on the site and seeing the options. I like the prices I am seeing on here much better than my doctors office. I think for my next pair of glasses I will be heading online.
Image Credit: Thomas Hawk