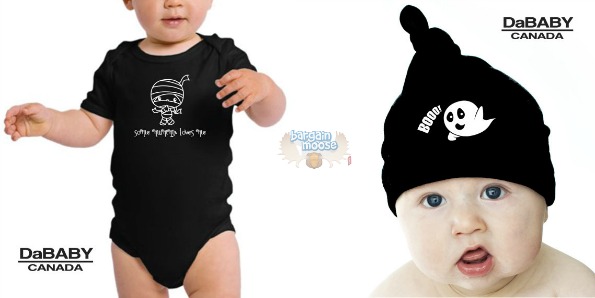 I was having a look around Etsy today, looking for homemade Christmas gifts and came across a very cute store that sells baby onesies. Their onesies are super cute and they have some styles for Halloween. What I love about buying baby clothing from Etsy is that your kid will be the only one with that onesie at playgroup, unlike the moms who got their onesies from Carters OshKosh. The onesies are only $14.99 and shipping is a very reasonable $2.99, shipping from Ottawa (so no duties either!). I also noticed that it will ship in 1 to 3 days by regular mail, so you will definitely get it by Halloween.
Made from cotton with nickle-free snaps and eco inks, these onesies go from size 3 months up to 4T. My favourite is this Some Mummy Loves Me. It is seriously adorable.
Tales from the Crib is also spooky in that adorable sort of way, but you really can't go wrong with this Straight outta Daycare onesie. Dr. Dre Jr. would be so proud. Straight outta Mommy is pretty funny too!
DaBaby also does personalized onesies with birth announcements and more and those are not that much more.
But, sticking with the Halloween theme, they also have some very cute beanies, because you know that even though it has been warm, Halloween night is going to be a cold one (always is!!) and your baby can't miss his first time trick or treating because of some stupid snow. This Boo one is just the cutest little hat ever at only $11.99.
What I also love about Etsy is that you can favourite the items you love and come back to them later if you can't decide right this second. Although, don't always wait too long if you see something you love as I've had it where it was so unique, it was gone and not coming back. Ever.
(Expiry: Unknown)