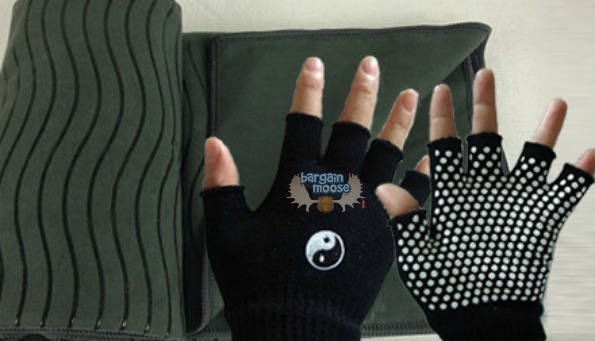 If you love yoga, ethicalDeal Canada has a really great deal for you. For only $24 you'll get a non-slip yoga towel and two pairs of gloves, worth $99.
Although I don't get to do it enough, I absolutely adore yoga. Hot yoga is the most wonderful thing in the world and afterwards I feel so invigorated, alive and detoxed. The only problem with hot yoga is that you sweat, and although that is not really the problem, that is a good thing, the problem is that sweat is very slippery. So, using a regular mat in hot yoga is difficult because your hands get all slimy, slippery and damp feeling.
This yoga towel and yoga gloves will definitely solve the problem of slippage, both in hot yoga and regular yoga. With wavy ridges and absorbent material, the yoga wave towel helps you keep a firm grip while doing even the most difficult of poses. The towels is also machine washable and quick drying so you know it will not start smelling. Plus it is very durable so it will last you for many downward dogs. The gloves are also great, helping you to avoid slipping while using a regular mat or the yoga wave towel. Both items are only available in black with this deal and the gloves are one size fits most.
Simply purchase the voucher you'd like, then redeem it between April 24th and May 24th, 2013.
Choose from:
Four pairs of non-slip yoga gloves for $10 ($60 value)
One non-slip yoga towel for $20 ($69 value)
One non-slip yoga towel and two pairs of gloves for $24 ($99 value)
Tax and shipping is included.
(Expiry: 22nd April 2013)