Escents Aromatherapy Canada: Dealio For Free Cup With Green Tea!
Our Bargainmooser friend Jeanette has emailed with a nice little deal from a little Canadian boutique, Escents Aromatherapy, which I would like to let you guys know about. If you're a tea lover… read on…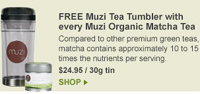 The deal is for the Muzi Organic Matcha Green Tea. It's priced at $24.99. If you buy it, they will give you a free muzi tea tumbler. When you add the tea to your cart, you'll see the tumbler automatically added also. The offer expires on the 24th of September, 2009.
There are a few other deal on the site as well, if you want to have a browse around. For example, if you bundle any wash & bubble, body scrub and daily lotion, you get an extra 20% discount on your order (until 14th September 2009).
This is the first time I have mentioned EscentsAromatherapy on Bargainmoose. They are actually a BC based boutique.
Shipping is free on a $100. They also mention that there are free returns on any order, so this is a really good incentive to give them a go.