Encircled Canada Coupon Code: 20% Off Evolve Top - Now $73 (Was $92)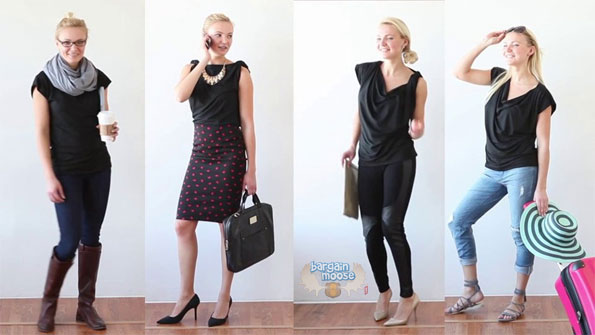 How would you like a top that you can wear in 8 different ways from a regular top all the way to as a scarf? Encircled has just released a code for a 20% discount on its signature Evolve top. This promotion is only valid until Sunday, so hurry to get it before it's too late! The Evolve top's regular price is of $92, so you can now get it for just $73.60.
Click here to get an Evolve top @ Encircled.ca
Coupon Code: COLOURFUL
Discount: 20% off Evolve top
Expires: 7th September 2014
Ever heard of Encircled? It's the first that we're blogging about them here on Bargainmoose but it's this company's story that makes them the most interesting (well, that and their promotions of course). Encircled began when Kristi, the company's founder, experience frustration at the lack of versatility in clothing on her trip to Costa Rica. You can read more about Encircled's history here, but in essence, she set out to create clothing that can be worn in a variety of ways. For instance, the brand's signature product, the Chrysalis cardi (reg. $138) can be worn in more than eight ways from a cardigan, a dress, a scarf etc.
As for this discount, what makes it special is that Encircled rarely offers 20% off. In fact, the last time they did was in June and even then, it was only with purchase of 3 or more items! Since then, they have offered 15% off the purchase of 2 or more items as well as a 10% discount on any 1 item. So a 20% discount on the Evolve top is definitely pretty good, especially for those of you who have already been eyeing it for some time.
Unlike the Chrysalys, which is a cardigan at its core, the Evolve top is just that: a top. You do, however, have the option of wearing it as a scarf like the Chrysalys but it's nonetheless a top that can be worn in a variety of ways like the following:
Full top with mid-elbow length sleeves
Sleeveless top with cowl in the back
Off the shoulder with cowl in the front
One cap sleeve
Etc.
All in all, it boasts 8 different varieties of wearing it also available in the following colours: black, white, cobalt, coral, mint, royal or soft white. My pick would definitely be for the black one as it would be even more versatile but all of the colours look equally as fabulous.
Always added as soon as new ones are released, all Encircled coupon codes may be found on the Bargainmoose forum.
Shipping is free on orders over $100, otherwise a $10 shipping charge will be added.