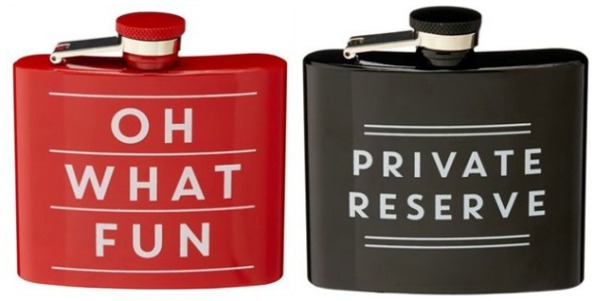 Celebrate the holiday season with a new cheeky flask. The Enamel Flasks at Chapters.Indigo.ca are now on sale from $25 down to $15. There are two different Enamel Flasks to choose from, and they are equally awesome. Spend $25 and you will get free shipping, so maybe you want to snag both flasks?
There are two different Enamel Flasks available at Chapters.Indigo.ca. One reads "Oh What Fun" and the other says "Private Reserve". The red one is a little more festive in my opinion, but they are both equally awesome. Plus for just $15 you have yourself  perfect Christmas gift for someone who enjoys a swig of the good stuff here and there.
It even comes in a beautiful box to make it an easy gift. It has a 5-oz capacity and stands about 3.9" tall. You won't even have to fight with it too much to get it ope, since is has a flip-top which pretty much guarantees easy access. Now saying that, I would keep this out of reach of the children if you do fill it with something alcoholic. It is also not dishwasher safe. Just rinse it out and clean the outside with a soft, damp cloth. These flasks are Chapters Indigo exclusive, so you won't find them anywhere else. You also don't need to find them anywhere else thanks to this sale price.
This would be a super-fun item to sport while attending those Christmas parties this year. I am not a big drinker, but I am very tempted to add one of these flasks to my shopping cart. BYOB just came to a whole new level, and I am excited to see what my friends and family think of these adorable beverage containers.
Chapters.Indigo.ca offers free shipping on all orders over $25, so your best bet is to add something else to your shopping cart to reach that total. If you are getting this item as a gift, then perhaps you can think of two people who would enjoy a cheeky flask this Christmas. Then your total would exceed the minimum spend needed to get shipping and handling included in the cost.
Moosers, are you going to need a flask of your own this Christmas?
(Expiry: Unknown)